ALBUQUERQUE ACADEMY ATTEMPTING TO WIN 18TH STRAIGHT BOYS TENNIS TITLE
When it comes to boys tennis, Albuquerque Academy is one of the most dominant high school sports programs, not only in New Mexico, but in the country.  The Chargers have won 17 state championships in a row. "We have a pretty good team," said sophomore Josh Simon.  "Everyone is playing really well this year, so it's going pretty good."
The 17 consecutive state titles is the longest current streak in the country for boys tennis and third longest ever in the sport.  A big reason for their success is depth. "Our top six are solid," said head coach Mike Cheves.  "We have some great players, some young players, some guys who are tenacious and get after it.  So far, so good."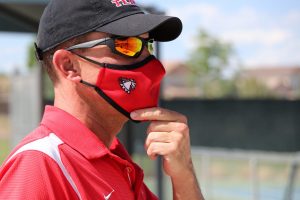 Mike Cheves is the team's new head coach.  He takes over for Ray Jaramillo who stepped down last season. "I love the Academy, I love the kids and the people there," said Cheves.  "I've been coaching there for a while, so it's nice to take it over from a great friend like Ray."
The Chargers are led by the Dils brothers, Connor is a freshman and Tanner is a sophomore. "They're both smart players, one is a little more aggressive than the other and their chemistry is great," said Cheves.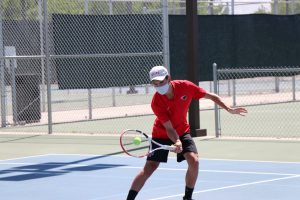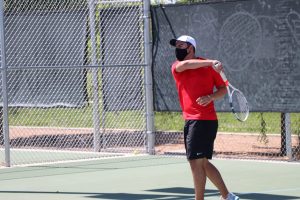 "Recently we've been getting more similar," said Tanner.  "I used to be the one that always hit harder, but he's getting up there now which is kind of scary."
The name Dils might sound familiar.  Connor and Tanner are the sons of former UNM assistant men's tennis coach Loren Dils and the nephew of former UNM head coach Alan Dils. "My uncle and my father are both my main coaches," said Connor.  "I get a lot of good tips and they teach me everything I know."
"I get a lot of good tips, whether I'm on the court or off," said Tanner.  "When we're watching tv, it's always a discussion about what they are going to do here or what they are going to do there."
Loren was diagnosed with ALS in 2008 and is confined to a wheelchair, but it doesn't stop him from watching his sons and this Academy squad make a run at 18 straight this June.
"It's nice to be playing again," said Cheves.  "Everybody has the rust out and we're just doing it one match at a time."
State Tennis Individual Championship week starts June 7th with the Team Championships the following week.