SMALL LOOKING TO FINISH BIG AT STATE
Zackary Small is a defending state wrestling champion at 182-pounds.  Small is not a way to describe Zackary's stature and resume.  The recently graduated Farmington High School wrestler heads into the 2021 New Mexico National Guard State Wrestling Championships as one of the favorites to repeat as state champ.
"There's somewhat of a target on my back," said Small who has a 14-1 record this season.  "I have that one loss, but there's pressure to repeat."
Last season, Small capped off the perfect season with a 50-0 record, culminating in the Class 5A 182-pound individual state title.  "Going in, I knew I was going to have a tough bracket and prepared for a couple of scenarios, but none of them went according to plan," he recalls. "I remember my coach telling me to focus on the next match and focus on a winning mentality."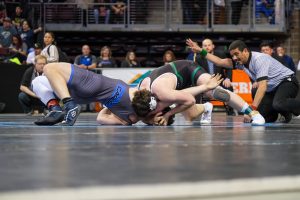 Winning state in 2020 was a goal Small set for himself after coming up short his sophomore season, finishing third.  "That motivated me big time going into last year," Small said.  "I wrestled the state champ in the semifinals and came up a point short.  It stung for a long time, that feeling was a big motivator."
This year, Small is approaching the state meet with a slightly different mentality.  "I have to focus on wrestling free, just letting go and not having any fears," he said.  "Whatever happens, happens.  When I wrestle free, I wrestle best."
Small will wrestle at Virginia Military Institute in the fall on a Reserve Officers' Training Corps scholarship.  He says he was drawn to VMI because of the program's lifestyle and training.
Small admits he's a little anxious and nervous for the state meet, but he's excited about wrestling one more time in his high school career.  "I don't have any regrets, I always put 110 percent effort into every day," he said.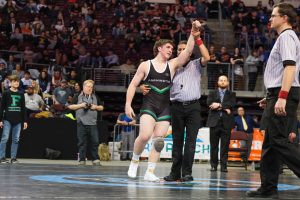 The 2021 New Mexico National Guard State Wrestling Championships begin this week at the Rio Rancho Events Center.  Class 3A and Class 4A will compete on Thursday.  Class 5A and the Girls Division will compete on Saturday.
Here are some of the defending state champions in the field this year.
Class 5A
126lb: Avery Atma, junior, Las Cruces High School
126lb: Jonathan Gurule, senior, Los Lunas High School (won 113lb Class 4A in 2020)
182lb: Zackary Small, senior, Farmington High School
Class 4A
106lb: Bryson Valdez, freshman, Aztec High School
182lb: Malcolm Altisi, senior, Aztec High School
285lb: Caleb Varzeas, senior, Aztec High School
Class 3A
120lb: Isaiah Marquez, senior, Cobre High School
138lb: Nikolas Trujillo, freshman, Cobre High School
145lb: Esteban Molina, senior, Cobre High School
152lb: Andres Grano, senior, Robertson High School
160lb: Ishya Delatorre, senior, Cobre High School
182lb: Alex Holguin, senior, Cobre High School
195lb: Derik Ortiz, junior, Pecos High School
220lb: Arthur Quintana, junior, Cobre High School
220lb: Santiago Martinez, senior, St. Michael's High School
Girls
113lb: Santii Santiago, senior, Atrisco Heritage Academy
126lb: Makayla Munoz, sophomore, Aztec High School
132lb: Yele Aycock, senior, Miyamura High School
145lb: Princess Altisi, junior, Aztec High School
182lb: Tristan Martinez, senior, Grants High School
220lb: Jojera Dodger, junior, Kirtland Central High School