WRESTLING CAN BE AN OUTDOOR SPORT TOO
Friday April 16, 2021 is a day that will go down in history for Silver High School.  That Friday, the school held the Inaugural Outdoor Silver High Wrestling Invitational at Western New Mexico University.
"It was outstanding," said Silver athletic director Gary Allison.
Senior heavyweight Jacobi Lockett added to Allison's review of the event.  "I thought it was awesome," he said.  "It was a little chilly at first, but once the wind died down, it was fun."
Centennial, Deming, Las Cruces and Onate also took part in the meet which started at 5pm and finished under the lights of the WNMU football stadium.  COVID-Safe Guidelines prohibit fans at indoor athletic events for counties that aren't green or turquoise.  Hosting an outdoor event allowed spectators to watch in person.
"It went pretty smooth," said 20-year Silver head coach Luis Alvarado.  "I wouldn't mind doing it again in the fall this coming November if we start early enough in the day and the weather cooperates."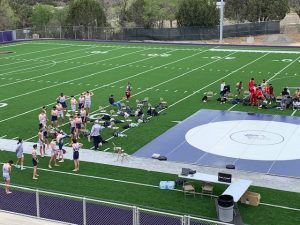 Weather is always a factor with outdoor athletic events, and this one had its own bit of levity.  Alexis Alvarado was participating in the first match of the day when a gust of wind flipped up the mat onto Alvarado and her opponent during the kickoff pairing.  "At first I didn't know what was happening," she said. "It got dark all of a sudden and then I realized the mat was on top of us, it was kind of funny."
"Coach Alvarado and myself started talking about this idea almost the day I took the athletic director position at Silver High," said Allison. "There are many Division One colleges that hold outdoor wrestling meets on an annual basis.  We thought, 'Why not at the high school level, as well?'"
When Alexis was asked if she's like to participate in another outdoor wrestling meet, the junior quickly replied with an emphatic, "Yes!"
There are more statewide outdoor wrestling events scheduled this season, including powerhouses Rio Rancho and Cleveland squaring off Wednesday night.