WEST MESA HIGH SCHOOL CHEER HELPS LIFT SPIRITS
By definition, the role of a cheerleader is to provide enthusiasm and spirit.  But it's hard to support others when your opportunity to compete is taken away by a pandemic.
"Last year we were getting ready for state and it ended out of nowhere," said West Mesa High School cheerleader Itzel Perez.  "It was sad, this whole year has been crazy.  I'm just so glad to be back on the floor, it feels so good."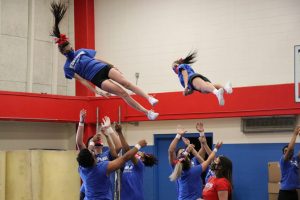 Being back on the floor feels even better for West Mesa senior Delylah O'Conner who was diagnosed with COVID-19 back in October.  She developed a case of pneumonia on her left lung, making breathing more difficult and was isolated for three weeks.
"She didn't want to get anyone else sick, so she was stuck in her room," said West Mesa cheer coach Stephanie Davy.
Delylah said she suffered from depression.
"It was difficult, it messed with your mind a lot," said Delylah.  "It got to the point where I had to keep calling someone just to talk to them so I wouldn't feel so lonely.  You're just there by yourself, not doing anything."
After recovering from COVID, her roller coaster ride continued. Delylah started to have a pain in her stomach and was taken to the hospital.
"I had a sharp pain and they thought it was my appendix at first," she said.  "They did a CT scan and found a large mass taking up a large part of my stomach."
Doctors discovered a microcystic stromal tumor, a very rare cancerous growth.
"It was very scary because I'm so young," said Delylah.  "I didn't know I was going to go through this."
But Delylah didn't have to go through it alone.  She had support all around her.
"A lot of our teachers came through and we took care of Christmas for her family," said Davy.  "A lot of teachers didn't know who she was and didn't have her in class but they heard one of our kids was going through something and wanted to help out.  I think her feeling everyone behind her really helped keep her positive and get her back here with us."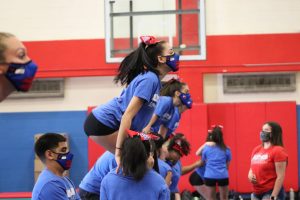 "Being in cheer helped me a lot, it made me feel so much better," said Delylah.  "It was literally my escape."
Delylah, now back on the mat, knows first-hand the role of a cheerleader can not only encourage, but sometimes help heal.
"It helps you get through your challenges and the positive vibes that people give off, you can feel it when there's positiveness all over, that will keep your mind going and you won't give up" she said.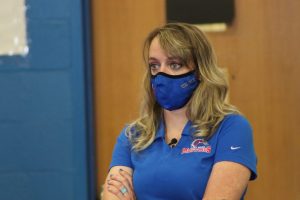 More than a year after being shut down, teams from all over the state are getting ready to compete at state again.
"I sent out on our group chat, 'We have 14 days until state'," said Davy.  "I'm pretty sure their jaws dropped.  "It's fun to be able to have this opportunity.
"Being able to compete this year, it's going to mean a lot because I worked so hard to where I am now," said Delylah.  "It's nerve racking, but I'm ready.  I think I got it."