ST. MICHAEL'S BOYS SOCCER TEAM BEGINS THE YEAR AS DEFENDING CHAMPS
The last time we saw the St. Michael's boys soccer team, they were lifting the blue trophy for the first time in school history.
"It is surprising at how far back it seems, given that the last time we got together and the last time any of these kids played was 2019," recalls head coach Michael Feldewert.
That was over 485 days ago when St. Michael's claimed the state championship with a shootout win in the final.
It was amazing because it showed us that we could get there since it hadn't happened before," said senior Kyle Peinado.  "It was nice to know it's possible."
This year the Horsemen enter the season as the defending state champs, a position they've never been in before.  "I don't know if there's a target, we always feel like we can compete," said Feldewert.  "They extent to which we can compete this year depends on how our new players can acclimate to the varsity level."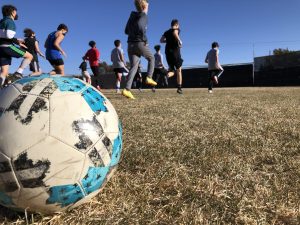 St. Michael's has five returning starters from the 2019 squad, but only one returning senior, Kyle Peinado.  He played every minute of every match his junior year, but questioned whether he would get to play his senior season because of the pandemic.
"It was always iffy but we all had a little bit of hope," said Peinado.  "It's great to see all the new kids and the people from last year.  I think we have a lot of potential as a team and so it's good to be back."
This will be a shorter season for all fall sports and everyone will be wearing a mask.
"It doesn't stop us on working to win state," said junior Oliver Rosales.  "As a matter of fact, it makes us stronger in working out and practicing."
"What you see is the skill is there, but the flow is not quite there, and the conditioning is not quite there" said the 6th year head coach.  "We haven't had a lot of time to get conditioned which concerns me, plus you're wearing a mask which adds a conditioning component to it.  But we all have to deal with the same thing, so off we go."
The high school soccer season is underway.