CLEVELAND STORM "CHOMPING AT THE BIT" TO START THEIR SEASON
High school football teams officially returned to the field last week, but the 6A defending state champs from Cleveland High School open the season this weekend.
"I'm thrilled," said Cleveland High School senior Trey Ortega.  "Me and the guys have been chomping at the bit to get back at it."
"I'm really excited to get back out there for one reason and one reason only," said Cleveland head coach Heath Ridenour.  "I've told these guys 'No' for so many months, and seeing that look on their face, it was devastating for me as a coach.  Finally, to be able to tell them 'Yes', we've taken every day for what it is and being thankful for it and not taking it for granted.  I'm excited to be around the kids more than anything."
The Cleveland Storm won it all in 2019 and were built for a possible repeat run, returning nine starters on defense, all of their receiving corps and their starting quarterback.  Instead, the pandemic forced all football teams to play a shortened season this spring.  Their head coach says it's about perspective and a positive attitude.
"We've told these kids to stay positive and be thankful for the opportunity you get," Ridenour said.  "You can look at it one of two ways.  One, we're not getting a full season and we may not get to defend our title or you can look at it as we get an opportunity to play."
"We're blessed to even have a few games at this point," said Ortega.  "There was a possibility we weren't going to play at all.  The fact that we even get to play these very few games is very much a blessing."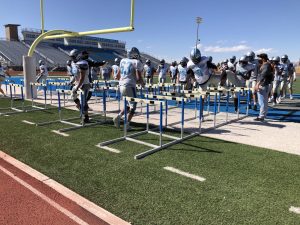 The Cleveland Storm will open their season against the Clovis Wildcats.  These two played a high-scoring, 56-43, thriller in the state semifinals in 2019.
"With the very few games that we do get, we do want to play the best," said Ortega.  "To play a team like Clovis, a very strong and physical team, so we're excited to get after it."
"It's not the team you want to see on your schedule first game out of the gate," joked Ridenour.  "We will have only had five days of team practice.  We just got together Monday for the first time.  To say we're behind the 8-ball is a vast understatement.  Our kids are doing a good job, we're trying to get ready to play.  Clovis, you look at them top to bottom, they've got athletes everywhere.  They're coached really well and they're going to be a tough game."
Regardless of the opponent or the number of games, they are happy to just be back on the field.
"When you step on the field Saturday, it's going to be a little bit surreal and you're going to realize what it feels like to put a headset on again and be in that environment.  We're excited to have fans there and just get back to life again.  We've all been cooped up in our homes for a year now and we're tired of it and it's been 16 months since we coached a football game.  This is one of the best senior classes we've ever had at Cleveland High School.  I'm excited to get back on the field with them.  It's going to be emotional, it's going to be exciting and I look forward to it."
Kickoff is slated for 3 o'clock, Saturday afternoon at Cleveland High School.
The game will be streamed live on the NFHS Network https://www.nmact.org/new-mexico-nfhs-network-coverage/