LOCAL BASKETBALL HISTORIAN PENS BOOK ABOUT THE HISTORY OF BASKETBALL IN NEW MEXICO AND LAUNCHES NEW WEBSITE
Basketball enthusiast and historian Marty Saiz decided to tackle a daunting task.  He wanted to put together a book about the history of basketball in New Mexico.  After years of research, his project turned out to a two-for-one deal.  Along with a new book, expected to be released in April, Saiz is launching a new website, www.nmbasketball.net , which is now active.
"It's been a long process, but it will be a website with a lot of archive information including articles, photos, videos, records and everything you wanted to know about New Mexico High School basketball," said Saiz.
Longtime basketball historian Chuck Ferris had an established high school basketball website, www.chuckferrissports.com , documenting New Mexico's High School history of the game.  But Chuck was looking for someone to take over his work.  Marty and Chuck, two basketball junkies, combined data and the result is a new site for New Mexico's popular sport.
"The new site will have video's, more pictures, more stories, and a better way to access what you want to see," Ferris posted.  "There are several people that are contributing to the new site, Marty Saiz, Rick Shed, and Steve Flores, among others.  I am getting to the age where I am unable to put as much effort into the project that I have in the past, and joining with Marty, et al, will insure a continuation of putting the information out to those of you that want it."
The new website will include some 'never-before-seen' records Saiz uncovered during his research.  Most Points in a State Tournament Game by a Team (123 points by Hobbs in 1970) and player (52 points by Mike Nanez of Melrose in 1995), Most Wins In a Season (33 victories by San Jon in 1961-62) and Most Consecutive Wins (53 in a row by Hobbs from 1965-67), along with Scoring Average for a Season records that rank nationally (114.6 ppg by Hobbs in 1969-1970), will all be included on his website.
"My focus is going to be on the positive accomplishments a lot of people don't know about," said Saiz.  "As I traveled and spoke to so many people, one common trait was their love of the game."  The website chronicles over 100 years of basketball history, including stats, facts, championship details and winning stories.
The entire journey started with his quest to write a book.  2021 will technically be the 100th Anniversary of the first State Basketball Tournament in New Mexico. Saiz conducted over 300 interviews and gathered over 30,000 articles and documents during his research. "My wife said, 'The only one who can see all this information is you,'" Marty said.  That's when the idea came together for a website to launch in conjunction with the book.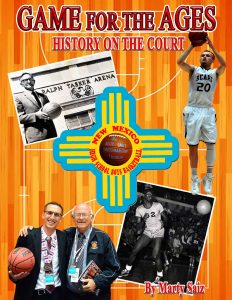 Saiz is an admitted history fan and spent months traveling all over the state speaking with coaches, players, sports writers and it led him to his final product, "Game For The Ages: History On The Court" by Marty Saiz, a book to be released soon.
"If you love the game of basketball and want to read about the top players and coaches and teams in the state, then this is the book for you," Saiz said.
Saiz gathered so much information, he might put together a second book to accompany his debut.  He also spoke of continuing his research of girls basketball in New Mexico and would like to author that book by 2023, which would be the 50th Anniversary of the Girls State Basketball Tournament.