ATC GIRLS CROSS COUNTRY: "THEY'RE HUNGRY"
"They're hungry!"
That's how Academy for Technology and the Classics cross country coach Tim Host describes this year's group.  Rebuild is not a word needed to describe the defending state champs from ATC.  The girls team returns virtually everyone from last season.
"We have a team that's ready," he added.  "I've been so proud of their preparation and determination."
ATC claimed the Class A-2A State Cross Country Championship in 2019 with four of the top five individuals, including 1st place finisher Maggie Rittmeyer.  "I think it meant the world to win it all in 2019 because they felt like they should have won the previous season," said Host.  ATC came up 3 points behind state champ Pecos in 2018. "It was close and fun and exciting race and the girls felt like they gave everything they had and we were so close. Being able to get over that hump meant a lot for them."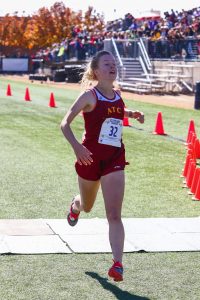 "It was surreal," said Maggie.  "Every time we talk about it is still very exciting! We put in so much effort, it was a relief to finally see our hard work getting results," added the senior captain.  In her final high school fall season, Maggie is trying to take in every run step for step. "I'm appreciating what I'm having in the moment, everything was so uncertain. I am looking forward to every practice."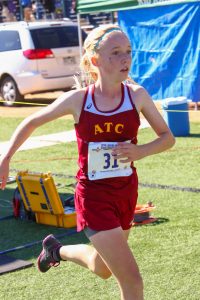 Maggie's sister, Lily, is a sophomore this season.  Lily finished third at state in 2019. "It was crazy because I didn't expect it because I get really nervous for state," Lily said.  "I have more passive starts, I wasn't anywhere near the front. People said 'you came out of nowhere'. I don't want to start off fast because I know that won't end well," she joked. "Our team now is in the best shape we've been in."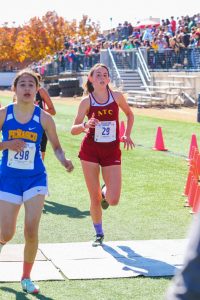 ATC also returns junior Josette Gurule, who was a top-15 finisher at state.  "I've been working harder than I've even been to impress my teammates and be better than I was last year," she said.  "I'm so blessed to be on a team with other girls who are inspiring and have a craving for success and to personally improve. We all rub off on each other. Each of us have a competitive spirit to keep going."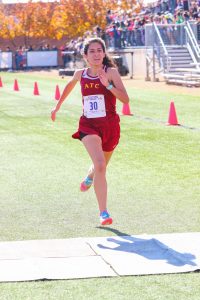 Kamryn Hoehne, also a senior captain this season, was a 5th Place Finisher in 2019.  "I see my role this year as a model for the younger kids," Kamryn said. "I remember being a middle school runner and not knowing much about cross country," she recalled. "I told myself, 'One day I want to win a state championship. Every time I passed that photo of the 2015 Championship squad, I said 'I want to be like that team.'"
Preparing for the season has been challenging in a pandemic.  The girls had to run in small groups, according to the guidelines set in place, and wear masks while training. "It's definitely different, there's a lot more to worry about, being around people and social distancing, adapting to wearing masks, but we're used to it now," said Lily.
With all the returning pieces, do the ATC girls feel like they have the pieces to repeat as state champs if a state culminating event is approved for competition?
"We're going to have to stay focused, stay working hard, and keep our eyes on the goal," said Gurule. "I think we definitely have to work together like we did last year," Kamryn said. "We worked really hard and had that fire from the year before, we have to do that again."
Their coach knows it won't be an easy road to repeat.  "They want to win again, but have nothing to prove," said Tim Host. "They know Laguna Acoma is coming into our state classification, Pecos isn't going anywhere, they're so good. It's going to be really exciting."
"We're in the best shape we've been in," added Lily. "We are not going to let that go to waste. We are pushing for another state title! If we keep heading in the same direction and keep training, we have a good chance at ending the season with a win."