THE WOLVERINE WAY
"I kept saying I would rather miss my graduation and miss my prom than miss my senior year of sports." -Riley Rohrbach, Texico High School.
The senior speaks for a lot of students who feel the same way. Fortunately, the arrival of Riley's senior season is about to start.
Rorhbach is one of five seniors on this year's Texico volleyball team.  The Wolverines are happy to just be back on the court.
"We're just so thankful for what we CAN do," said senior Riley Rohrbach. "Just being able to get in the gym and do something is way better than nothing."
About 11 months ago, their athletic world was turned upside down when school and sports came to a grinding halt.
No summer camps.
No offseason tournaments.
COVID-19 dictated the calendar.
"We've been staying positive," said Rohrbach.  "Some of our goals are staying positive, being adaptable and having a lot of energy.  We are focusing on the fundamentals and the things we can do right now that we know are going to help us for later.  We are trying to control everything we can control and let the rest of it play out."
The new normal for volleyball this year includes a shorter season, no overnight travel, no tournaments, and wearing masks, something none of these players were used to.  However, they all feel like following the guidelines is a necessary step to ensure a completed season.
"Right now, just being back in the gym is such a big deal for us so we definitely don't want to jeopardize that," said Rohrbach.  "Even though it's an inconvenience and even though it's difficult and practicing with a mask on isn't fun, it's important to make sure we keep this opportunity."
Let's not forget, on the court this group is the defending state champ and they are deep with experience.
"We're really a tight knit group, we've been playing together since the third grade," said senior Grace McDaniel.  "It's exciting and fun and we're hoping to continue to tradition at Texico."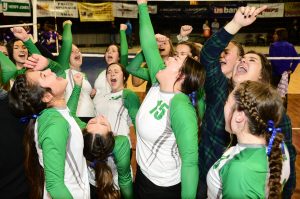 That tradition includes 12 state titles in the past 14 years. They've won six consecutive championships TWICE over that span. The Wolverines have racked up an incredible 296-45 record since 2006.  But this year will be different in so many ways.
"Our starting point will be very different," said head coach Kristen Scanlan.  "I tell the girls we have to be able to really jump fast and go hard because our season is so short."
"It's going to be a challenge, but you know what, we can do it," said Scanlan.  "That's what we try to preach to them, the positive, yes we're going to have a season at some point, and the fact yes, we can push through this.  Everybody is on the same playing field."
Head coach Kristen Scanlan is hoping her seniors can lead them to another finals appearance this season where they would make a run at seven straight.
"Our seniors have done a great job leading so I am confident that our seniors will step up and teach our juniors and sophomores what the Wolverine way is all about," said Scanlan.
What is the Wolverine way?
"Never give up, always fight to the end, we have a lot of great team goals like adaptability, actions follow words, fight for every point, build relationships, we're trying hard to have a quicker tempo, and to push our boundaries," explained Scanlan.  "Our girls are ready, they know what their goals are and now we just have to get everybody together so they can execute those goals."
Texico will open their season March 1st against Tucumcari.  The state championships are scheduled for the end of March/beginning of April.