WEEKLY INTERVIEW WITH NMAA EXECUTIVE DIRECTOR SALLY MARQUEZ DECEMBER 14, 2020
New Mexico Activities Association Executive Director Sally Marquez answers questions about the return to athletics and activities for the 2020-2021 school year.  Here is this week's interview.
Last week, we asked if the athletes could work out over the holiday break.  We now have some clarity in regards to that issue.  What's changed?  Can they work out over the holiday break?
They can work out over the holiday break.  But staff are going to have to some surveillance testing, and that's coming from the Public Education Department.  As of right now, they will be able to work out over the holiday break, but they need to communicate with the district and there will be a two-week shutdown period.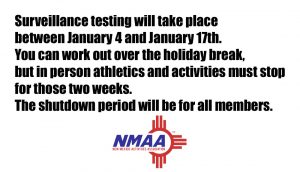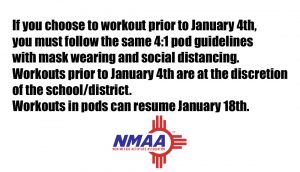 Finals are coming up for a lot of kids.  Scholastic Eligibility has been a discussion point for many coaches over the past several weeks.  Is scholastic eligibility a concern for you as they wrap up this semester?
It's always a concern.  We need to make sure our student athletes are doing what they need to do to get those graduation credits.  We've talked about it the last few weeks as to what is scholastic eligibility when it comes to student athletes.  Student athletes need to have a 2.0 grade point average and no Fs.  If they do have one F, and that includes freshmen as well, if they have one F but have a 2.0 cumulative provision then they are eligible.  Right now, it's crunch time.  If they get those good grades now, then they are going to be eligible from January to June next semester.  It's not only about athletics, we are education-based athletics and it's about academics.  We need to make sure those kids get graduation credits, that they do pass, and they the eligibility will come with that.
This will be the last interview until 'after' the holiday break.  Reflecting on the past year, 2020, what do you take away from the last 9 months? 
It's been tough.  I use the word gut-wrenching.  I remember in April when we had to tell spring sports that they were not going to be able to participate I said that was gut wrenching and who would have thought that nine months later we're still in the same position we were at the beginning of March.  It has been tough.  But what we've seen in the last nine months is a few positives that have come out of this.  There have been a lot of negatives because it's been tough not having sports, but there have been some positives.  Our coaches are doing a fantastic job and what we've seen is that coach-athlete relationship is so dynamic and it is so important for our students.  That has shown more than anything else because our kids need our coaches.  They need those educators and they need those teachers.  We've also been able to see how much we've been collaborating as one state.  The athletic directors, all the coaches, I have not seen so much collaboration and talking ever before.  We're all in this together for the one goal that we are going to play sports again in New Mexico.  It's neat to see everyone is coming together, supporting each other, and knowing that right now their job is the emotional well being of the student athletes.
Lastly, what is your outlook for 2021 and what message do you have for the coaches and student athletes and parents over the holiday?
I can't wait until January 1st.  You see all those messages of 'let's get rid of 2020'.  2021 is right around the corner and we've been saying the goal is that we're going to play all sports in the 2020-2021 school year.  We're not ready to throw in the towel right now.  Right now, what we need to do is stay positive.  The holidays are coming up and we need to reflect back on family, on the health of our family and the support system that we have and the support system of all the educators around them.  We need to focus in on the good.  When 2021 comes, we're going to continue to work hard so that we can play sports in New Mexico in this school year.  We're not talking about the school year in the fall of 2021.  I'm talking about us being able to play sports here in New Mexico.  We're not ready to throw in the towel.  We're ready to make sure our communities are doing what they can to get out of the red.  We need to make sure we're doing what we can so 2021 is positive for our kids.  Our kids are struggling, all of us know that.  The most important thing is to get kids back in school in a safe environment and they're able to play the sports and do the activities and do everything that they love.  My message during the holiday season is enjoy the family, keep smiling, keep your head up.  We need to stay positive because we are going to play again New Mexico.