GET TO KNOW THE COACHES: KATHY HIPWOOD, LOS ALAMOS HIGH SCHOOL
Kathy Hipwood is the girls cross country coach at Los Alamos High School and one of the most successful distance coaches in the state of New Mexico.  The Colorado native attended Westminster High School, just outside of Denver.  Kathy would go on to run at Adams State University in Alamosa, Colorado where she became a two-time All-American.  She met her husband, Robbie, while the two ran at Adams State.  In 1994, the two took over the running program at Los Alamos High School.  Kathy has won 18 state championships with the girls program and helped with another eight titles on the boys side.
Get to know more about Los Alamos High School cross country coach Kathy Hipwood.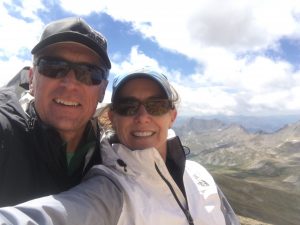 You grew up in Colorado.  What brought you to New Mexico?
I met Robbie at Adams state, we both ran there. He grew up in Las Vegas, New Mexico, but finished in Los Alamos.  Santa Fe High School was my first teaching job. The next year, Los Alamos had openings. We coached under the previous coach for a couple years and coached together for a very long time. In 1994, we took over as head coach.
What sports did you participate in high school?
Basketball was my first love. I did that through elementary school and middle school. My high school didn't start until the 10th grade. I went out for cross country to stay in shape for basketball. I fell in love with running and switched over.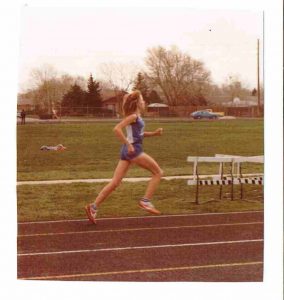 What did you love about running?
The way it made me feel, being outside. I was competitive and liked that it was on my terms. How hard I worked directly impacted how I did.
What was your favorite moment as an athlete?
I did not win an individual title in high school, but I was all-state. My highest finish was seventh among the big schools in Colorado. Then at Adams State, I was two-time All American, but it was the team part that influenced me and I remember most.
What's your favorite moment as a coach?
That is WAY too hard to say.  Robbie and I are always asked that and we say the moment you're in. Each year is special. Last year's double state championship was special, but I might say that for several different years. Our girls team in 2002 or 2003, that perfect score at state stands out. Their accomplishment was amazing! Their synergy was not predicted. We were the team favorites, but not expected to do that. The individual favorite was from Albuquerque Academy, Leslie Luna. all five of our girls ran together. One of them said after the race, "I didn't want to be the one to fall off."  Honestly, aside from accomplishments, I obviously remember most the relationships and the sharing, the intensity.  Somebody once said coaching is addictive…it is. You share the highs and the lows.
What teacher or coach had the most influence on you?
It has to go back to our legendary coach from Adams State, Joe Vigil. I only ran for him for one season, but he was a professor and I took his courses. He's a life philosopher. I learned a lot in terms of the mental side and training.  Damon Martin from Adams State, I was coached by him for one season, a friendship followed and now he's a part of the legend at Adams State.
Is there a race that stands out?
My last cross-country season there, at the RMAC Championships, it was very snowy and I'll never forget running in the snow in Golden, Colorado.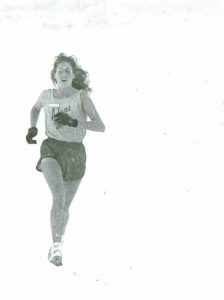 Did you win?
I did win that, the individual conference championship.
What was your favorite subject in school?
In high school, I was always good at math.  As a female, I was encouraged to do that and take that path.  At the time, there were so few females doing it and I had an aptitude for it.  My original plan was to major in civil engineering.  At Adams State, they are such a small school and didn't have civil engineering.  My major was math and secondary education. One of my favorite classes was American political behavior.  I switched from another class to take it, we had great conversations.
What tv shows do you watch on a regular basis?
We're kind of Netflix people. We've watched a lot. The most recent was The Durrells in Corfu.  We like a wide variety of shows, even some of the dark ones, like Breaking Bad, and a few others. We also watched The Crown.
If I give you the power to put any movie on tv you want to watch, what movie would it be?
I almost feel like we have that power now.  You can get almost anything.  One of my favorite all time movies is The Shawshank Redemption.  In recent years, I also Silver Linings Playbook and American Hustle.  We do like to watch movies.
What's your favorite candy?
I love sweets, but not candy.  I like good, homemade baked stuff, so I'll say dark chocolate.
Do you listen to music when you run?
Actually no.   I like music, but not when I exercise.
If I called up the music on your iPod, what artist would I see the most songs from?
That changes too, but probably currently, I like a variety.  I'm currently listening to Amos Lee.
If you could go on vacation anywhere in the world, where would you go?
We've been lucky to go to a few places. Of those, I'd have to say Scotland and Ireland. We've been to Italy and Barcelona and also have done the UK.
If you could only have one food for the rest of your life, what would it be?
That is impossible!  I love Tai food, but bananas and nuts are more realistic long term (Ha ha).
What does it take to become a successful long-distance runner?
That's one of the most awesome things is that you can just get better through hard work.  I think you have to love it, embrace it, and enjoy the process of it and put in the time. Not every single person is going to be an NCAA Champion, but everybody can improve.
What is your life motto?
A healthy mind and body balance, I try to teach that, especially with young girls. I always want them striving for growth and improvement with a spirit of contributing to the team.