ALAMO NAVAJO GRADUATE DECIDES TO SERVE INSTEAD OF GOLF
It's not often you see a recently graduated high school athlete decide at the last minute to pass on an athletic scholarship and instead enlist in the military, but then again, 2020 isn't your average year.
Summer Secatero is everything you would want in a student.  She was involved, a four-sport athlete, a volunteer, earned a 3.8 grade point average, and was the class valedictorian.  The Alamo Navajo High School graduate signed her letter of intent to play golf for a startup program at Mesalands Community College in Tucumcari.  Summer also had plans earn a degree in social work.
But plans change.
Summer had a change of heart and decided she would better serve her people by enlisting in the United States Navy.
"I see graduation as a door that welcomes us to a new beginning," Summer said in her virtual graduation address.  "Beyond that door is a new world; a new world that we have been abruptly prepared to take our place in."
In high school, Summer competed in cross country, volleyball, basketball and track and field.  "We are all very proud of her," said Alamo Navajo athletic director Barbara Gordon.  "She is an amazing young woman!"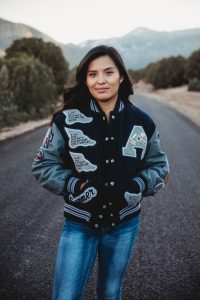 After deciding to join the Navy, it didn't take long to set sail on her new plan.  Summer spent the past several weeks at a Recruit Training Command in Great Lakes, Illinois.  Instead of a life of golf balls, tees and greens, she now has a future ahead of her that involves traveling the world and serving her country.
Serving the needs of others is nothing new for Summer.  She had recently spent several hours volunteering in the water and food distribution events on her home reservation since the school closure in March because of COVID-19.  "She's always been helpful and willing to lend support," said her father Craig Secatero.  "What really changed her mind was the uncertainty of this pandemic. Summer is very methodical and goal oriented."
Summer might have also been a little influenced by her older sister who joined the Marines years earlier.  Summer will finish boot camp on September 11th and then be shipped to her duty station in Pensacola, Florida.  She still has plans to eventually become a child psychologist and work with kids.  "She loves working with people," said her father.
In her final speech to her classmates at virtual graduation, Summer said, "As we finish up this chapter in our lives, I hope you are all ready to start a new one. I wish you all the best, good luck." We can say the same to Summer.  We wish you the best, good luck. The golf world's loss is our country's gain.