FLASHBACK: JORDYN LEWIS, NEW MEXICO'S RECORD BREAKING SHOOTING STAR
Jordyn Lewis knows a thing or two about records.  Her name is all over the New Mexico High School state marks for basketball.  Let's start at the top.  Lewis has the two highest single-season point totals in New Mexico history with 1,021 points (32.9 ppg) as a sophomore and 1,024 points (36.6 ppg) as a senior.
"It's really cool, it's very humbling," the former Ramah High School standout said of all the records. "Sometimes I forget about them. My aunts or uncles will post something and tag me on it and I'm like 'High School was amazing!"
On December 5, 2015, she scored a state-record 64 points (including a record 14 3-pointers) against Magdalena.  "As I was warming up in the Magdalena gym, I got the feeling it was going to be a good game," Jordyn recalls of her record-setting performance.  "It was just way more than I expected (laugh)."
"There's times as a coach when you just sit back and watch and enjoy it," recalls her coach at Ramah, Tucker Simons.
"I remember feeling like a switch just got turned on," Jordyn added. "Everything was working perfectly. There was nothing I could do wrong. It was so much fun."
Her coach agrees.  "It was one of those nights where she couldn't miss," he said. "They would throw two girls at her, she would come off a screen, find herself open and just made opportunity after opportunity for herself. It was a magical night, it was impressive! Even Magdalena's coach said, 'Oh my, that was something special to watch'.  They even gave her the game ball."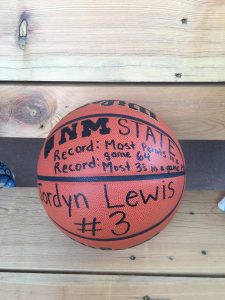 *Sidenote: Jordyn Lewis is also tied for 10th on the top single-game performances with a 50-point effort against Cuba in 2014!
Jordyn can be described as a shooter, a good one.  In her five-year prep career, she averaged 27.2 points and scored 3,208 points, which is third on the New Mexico all-time girls list. She owns the single-game (14), season (186) and career (406) state records for 3-pointers made among girls basketball players in the state of New Mexico.
Of all the records she holds, Jordyn was asked what's the one that stands out to her the most.  "I would honestly say the three-point record," she said.  "I'm a shooter, that's the one I'm proud of, it defines me as a player now."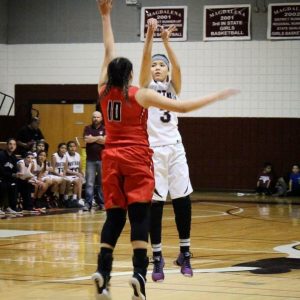 "Every coach dreams of having a player that just works and works hard all the time," said Simons. "If you ever wanted to find her, you just went to the gym. She was relentless and always wanted to be better and wanted to win. She was a competitor."
Ramah went 93-44 during her five seasons.  Along with basketball, Jordyn lettered all five seasons in volleyball and was named first-team all-state. She helped Ramah win a state volleyball title in 2014, capping off a perfect 23-0 season.  Jordyn also won the Class 2A state high jump in 2013, but of all her athletic accomplishments, basketball was her passion.
Jordyn grew up playing the game of basketball outside on her driveway, dribbling on gravel roads. "It started with my grandpa," she said. "I'd pick up the basketball and play outside; it was the only ball we had lying around."
The years of practice paid off in the form of a scholarship to play at the next level.  She started her collegiate playing career at Fort Lewis College in Durango, Colorado.  After two years, she transferred to New Mexico Highlands University. This past May, Lewis graduated from New Mexico Highlands University Summa Cum Laude with a Bachelor of Arts in Elementary Education and a minor in coaching. She will now move on to get her master's degree in the Educational Leadership program and hopes to play her senior basketball season this year.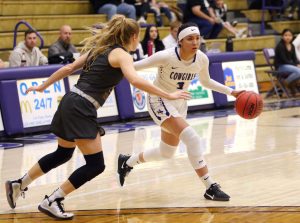 "Basketball has always been my passion and being able to play it has been a dream come true," she said. "It gave me the opportunity to go to school and chase my dreams."
A dream that will be forever etched in the records books of New Mexico High School history.