COACHING LEGEND LOU HENSON PASSED AWAY AT AGE 88
Hall of Fame basketball coach Lou Henson passed away at the age of 88.  Henson is a legendary figure in the coaching community. He is the all-time wins leader as men's basketball coach at New Mexico State and University of Illinois.  He began his coaching career at Las Cruces High School.
Henson was the varsity boys basketball coach at Las Cruces High School from 1958 to 1962.  He led the Bulldawgs to three straight state championships in 1959, 1960 and 1961.  His teams put together a 79-10 record during that three-year stretch.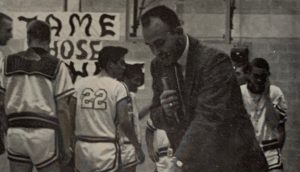 *photos courtesy Las Cruces Public Schools
Henson picked up his 100th career win in high school beating Gadsden 69-44 and was presented with 100 silver dollars from the team and community. Henson also coached tennis at Las Cruces High School.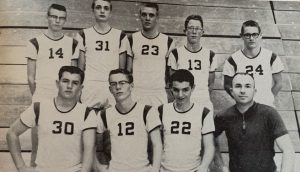 In 1959, Henson led Las Cruces to their first state basketball title since 1945 with a 48-41 victory over Clayton.  Henson followed that up with a second straight state championship after taking down the Highland Hornets in the 1960 final, 65-44.  Henson then directed Las Cruces to a three-peat with a 77-53 win over Los Alamos, capping off a 28-1 season for the Bulldawgs. Henson is one of just ten coaches in the history of boys basketball in New Mexico to win at least three consecutive state championships.  The others are Ralph Takser, Ed Lee, Mike Brown, Steve Scott, Russ Gilmore, Damian Segura, Jim Murphy, Kevin Lackey and Ira Harge, Jr.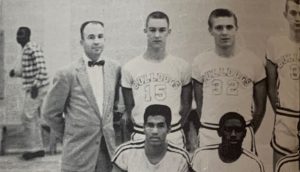 "Lou Henson was an outstanding coach, but an even better person," said New Mexico Activities Association Executive Director Sally Marquez.  "He meant so much to so many and left a lasting impression, not only on the community of Las Cruces, but the entire state of New Mexico."
"He was definitely an icon in this community," said Las Cruces Public Schools Athletic Director Ernie Viramontes.  "His personality as a coach and more importantly as a person meant everything to this community."
Henson battled health issues, including non-Hodgkin's lymphoma, which forced him to resign during the 2004-05 season. Henson retired from coaching in 2005 with a 41-year career record of 779-413.
Lou Henson, 1932-2020