WELCOME BACK: TEAMS BEGIN SUMMER WORKOUTS WITH NEW GUIDELINES
Temperature checks. Social Distancing. Pods.  These are all new phrases in the language of coach speak.  From Aztec to Eunice, and all parts in between, high school student athletes were back on the field and in the gym pursuing their passion.  This week was the first-time athletic programs around the state of New Mexico could begin summer workouts.
"It was so great to see kids and coaches back in action today even in a limited capacity," said Hobbs High School Director of Athletics Brenda Wilson.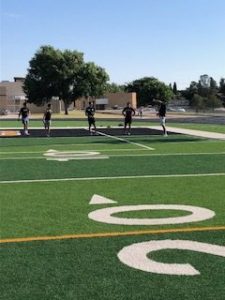 *photos courtesy Hobbs High School
"Our kids were chomping at the bit today to get after it and had a great day," said Eunice High School Athletic Director Robbie Robinson. "I couldn't even sleep the night before as excited as I was about working with our kids."
"When I started calling the girls to schedule them in for a practice time, they were so excited," said Bloomfield High School Girls Soccer head coach Jamey Jones. "We usually have a lot of team building activities going on.  Without those for now, the girls are doubly excited to see each other on the field."
June 15th was marked on the calendar for many high school athletic programs.  It's been three months since the last high school competitions took place.  All athletics and activities were shut down in March because of the COVID-19 health crisis.  A worldwide pandemic forced everyone to hit the pause button.  Mid-June couldn't come soon enough for the athletes and coaches.
"Seeing my teammates from a distance was better than it seems," said Los Alamos High School quarterback/defensive back Jakob Green.  "I am super excited for this upcoming season and ready to put more work in!"
Now coaches and kids are back together, albeit in limited capacity, for summer workouts with several guidelines in place.  In Phase 1 of these workouts, coaches can only work with kids in a ratio of 5:1.
"I am digging the pods," Roswell High School football coach Jeff Lynn posted on social media.  "Working with only 5 kids has it's benefits.  Relationship building, you can watch every kid's reps and you are able to coach better technique."
Belen Consolidated Schools Athletic Coordinator Steven Contreras said, "All programs are stressing the importance of social distancing and following all required guidelines."  The Belen High School volleyball team designed some welcome back messages the players would see as they enter the gym. "There's always a rainbow after a storm", "Giving Up is not allowed", and "Stay Positive, better days are on there way" were the positive reminders they wrote.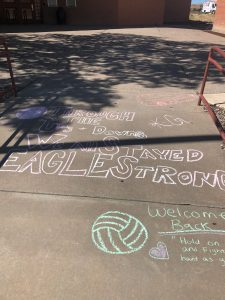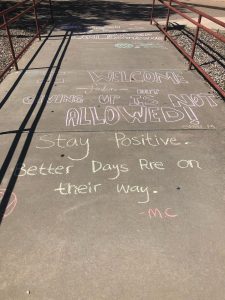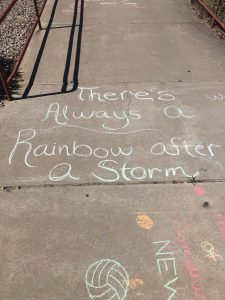 According to Lovington High School football coach Anthony Gonzales, day one of the Wildcats' workouts went well.  "I have been really proud of our team's accountability and leadership at home during this pandemic," he said.  "They have been doing a good job with our home workouts and they attacked today with a purpose.  Our coaching staff did an outstanding job modifying to smaller pods.  Our kids were chomping at the bit and ready to get going.  Distance has made the heart grow fonder."
The new guidelines require even more effort from both the coaches and their athletes.  Facilities need to be cleaned and sanitized on a regular basis. Coaches must wear masks.  All students must bring their own water bottle.  Athletes must remain six feet apart at all times.  All coaches and students are screened daily for signs/symptoms of COVID-19 prior to a workout, including a temperature check.  There is no use of locker rooms and there is no shared athletic equipment.
"One advantage is that now all my players have their own balls, so now they'll have more opportunities for ball touches on and off the field," said Bobcats soccer coach Jamey Jones.
"We are working on muscle development stuff, lots of lunges, push-ups, and sit-ups in groups of five," said Albuquerque Academy wrestling coach Troy Rodgers.
The New Mexico Activities Association believes returning to physical activity and athletic competition is essential to the physical and mental well-being of students.
"I am so glad I'm able to get back on the field and see my teammates and coaches," said Lovington High School senior lineman Alex Tramell. "We have been doing Zoom meetings twice a week, but it's nothing like getting to see them in person."
"Seeing each other on Zoom has been good, but getting a chance to train, and embrace shared suffering together again, has been the most exciting thing for all of us," said Lovington coach Anthony Gonzales. "We appreciate Sally Marquez and her sense of urgency to get us going again."
"The most beneficial aspect of getting started is that it brings hope to the players, families and us coaches that we will get to play again," said Jones.  "Having the spring sports season taken away, schools shut down, and the stay at home orders took a mental toll on all of us.  Events are being cancelled every day.  Starting practice brings hope that we will be able to get back to familiar and loved activities, even if they look a little different."
While some programs have started their summer workouts, others won't begin until later this month or early July to prepare for the "new normal" with guidelines in place.  Coaches have to clean more and come up with new, creative ways of working out while keeping their athletes at a distance from one another.
"My coaches are exhausted," said Robinson.  "But so worth it!"