THE FINAL HIT OF HIS HIGH SCHOOL CAREER TURNED OUT TO BE A MEMORABLE ONE
Mason Ashcraft has a life full of hits, but his last one in high school was one he will probably never forget.
Mason played for the St. Pius X baseball team and helped the Sartans win the state championship in 2019.  During his junior season, he carried a .360 batting average and was named 2nd Team All-State. As a pitcher and first-baseman with the Sartans, he had 6 career home runs.  His last one particularly stands out.
The Sartans were playing Albuquerque Academy in the championship game of their own tournament this past March.  "I was slumping a little bit before that," Mason remembered.  Academy pitcher Chase Weisenborn struck Mason on his previous at-bat.   "He struck me out on two straight curve balls followed by a painted fastball," Mason said.  The next time up, Mason wouldn't be denied.
"I knew he'd start me with a curve ball," Mason recalled.  Sure enough, as soon as that curve ball came to Mason, he hit it over the fence in left centerfield.  "It was a first pitch home run on a 0-0 curve ball," said Mason.
As it turns out, that was the last hit of Mason's high school career.  Shortly after that game, the rest of his senior season was cancelled because of the COVID-19 pandemic.  "I was beyond disappointed," Mason said when asked about losing the remainder of his final high school year. "It was hard. We had a great senior class to make another run at state."
When Mason hit the home run, he had no idea it would be his last hit as a high schooler.  The moment becomes even more memorable because of the connection he has to the opponent. The pitcher who was on the mound throwing to Mason in that game also became his future college teammate and roommate. Both Mason and Chase will play baseball for head coach Ray Birmingham at the University of New Mexico.
"I've known Chase since I was nine," said Mason. "We started playing club ball together. I committed to the University of New Mexico and a couple weeks later he committed. We decided to be roommates."
That hit might come up in conversation a time or two in their new living quarters, since Mason has already reminded his friend about it. "Chase and I talked about it after the game," he said. "I said 'Maybe you could come over and I can help you with your pitching.'  He has a good sense of humor. Last summer, he got two hits off me, so he got me too."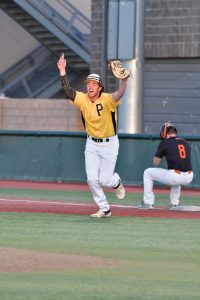 UNM seemed like a logical place for the standout Ashcraft to land.  "My mom and dad both went there and so did my grandparents," he said.  "Coach Birmingham is a winner and I want to win."  The Lobos plan to use Mason at first base and pitcher. "I plan to do whatever they want me to do and I'm excited to show them what I got."
This successful student-athlete has a full resume of lasting memories.  Mason Ashcraft was selected to the All-District First Base First Team his sophomore and junior year in high school. He was named the 2019 Second Team All-State Designated Hitter. Mason was a member of the 2019 4A State Championship Team.  In a lifetime of baseball, there's one hit he won't forget, the final one of his high school career.