JUNE 12, 2004: THE MOST COMMON BIRTHDAY FOR ARTESIA STUDENT ATHLETES
According to the internet, and everything is true online, right?, the most common birthday in the United States is September 9th.  That's not the case for Artesia High School.
June 12th is a day the Artesia High School Golf team knows well.
Meagan Simer is going to be a junior on the Artesia golf team this coming school year.  She has a twin sister, Carley.  Meagan and Carley might be twins, but they differ in many ways.  "Carley doesn't play golf," said Meagan.  "She runs track and cross country."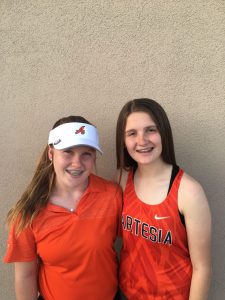 *Meagan and Carley Simer
This past school year, the Bulldawgs added some new players to their roster including freshman Annika Hidalgo.  How this for a coincidence? Annika also has a twin sister, Maree.  Much like Meagan and Carley, Annika golfs and her sister Maree runs track.
A pair of teammates who both have a twin isn't completely unusual.  But here's the kicker.
They were all born on the exact same day, June 12, 2004.
"We started putting two and two together, pun intended, when we were going through physicals" said head golf coach Dusty Bean. "It seems like a one in a billion chance that both sets of twins ended up at the same place."
"Coach Bean told us there was going to be more freshmen coming out for the team when basketball season ended," Meagan recalled.  "I knew we were getting some new girls and my mom had them (Annika and Maree) in class.  She signed forms with their names and noticed they were both born on June 12th."
"It was kind of crazy because we have two sets of twins and my sister and her sister are doing track and we are doing golf," said Annika.  The Hidalgo family is new to Artesia.  They recently moved to southern New Mexico from Pennsylvania.  "This was my first-year golfing," said Annika. "I'm always interested in trying a new sport."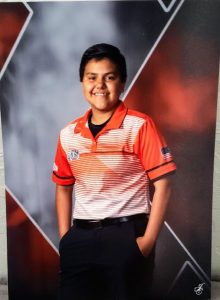 Annika has tried quite a few sports.  "I play basketball, football, golf, soccer and lacrosse," she said. "I'm really active. I'm going to talk to the coaches and see if I can be the first female football player with the program. I've been playing three years in Pennsylvania."
Because of the cancellation of spring sports, we will have to wait until the 2020-2021 school year to see what these girls can do on the golf course, as well as the track. "All four of the girls are extremely hard workers," said coach Bean.  "It is an honor to have them in our programs at Artesia."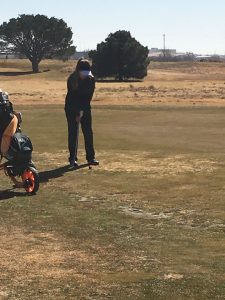 The odds of meeting another person with the same birthday as you are 365-to-1 (365 days in the year and your birthday is one of them).  In golf, the odds of making a hole in one are 12,500-to-1. The odds of having two sets of twins at the same school, participating in the same sport, with the exact same birthday and exact same year are astronomical.
So Happy Birthday Meagan, Carley, Annika and Maree!  You beat the odds.