ONE OF THE TOP COMEBACK STORIES OF THE 2019-2020 SCHOOL YEAR
The cancellation of the remainder of the school year, missing prom, not being able to participate in a traditional graduation ceremony, these are all difficult to accept, but considering what Rio Rancho senior Molly Garretson has battled and overcome, she can handle anything.
Garretson is a teenage cancer survivor.
The story started last spring.  Garretson had played volleyball for years, but suffered from a bout of mononucleosis in December of 2018 and her lymph nodes in her neck were still swollen months later.  "They hadn't gone down by the summer," she recalls, and her condition brought reason for concern.
"I have kids in my athletic period that I see daily," said Rio Rancho volleyball coach Toby Manzanares.  "There were times Molly was really tired and didn't have much energy."
Molly would soon learn she had thyroid cancer.
"I had my physical checkup for volleyball, they did an ultrasound, a biopsy on my throat and diagnosed me with papillary thyroid cancer," Molly said.  "I expected something was wrong because they were swollen for so long and it wasn't natural. I was obviously upset, but I knew I could get through it."
That summer, Molly underwent an 11-hour surgery to remove her thyroid and 56 lymph nodes.  "I was supposed to be out of the hospital soon, but the anesthesia was in me so long I had to stay five days after the surgery," she said.  "I was nauseous the whole time."
Once Molly returned home, she started physical therapy to get her neck muscles strengthened back up.  "We did weight training on our own to build up stamina and it helped," she said.
"Molly wanted to do everything she possibly could to return," said Manzanares.  "She's a driven kid and self-directed. She was in the weight room with her dad trying to get strong before the surgery and get fit.  That's admirable."
"I had a lot of support," said Molly.  "I was very supported and loved by the people around me. The Hobbs volleyball team donated money to help my cause, they didn't even know me."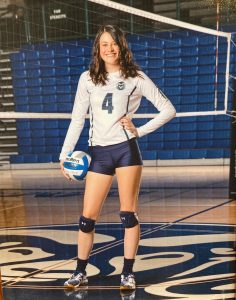 In the fall, Molly eventually returned to volleyball practice. "We gave her time off, she continued to rehab and work on her strength," said her coach.  "She showed up to practices and would get winded, so we talked about making sure she knew when she needed to take breaks. As tired as she was, she didn't take a lot of breaks. Those are the type of kids you're always looking for, no excuses. I really thought she gained the respect of her teammates."
After building back up her stamina and strength, Molly was ready for some game action.  "When I first came back, we had to go to Roswell for a tournament and I played every other game to take it slow," she said.
"After Roswell, she was ready to go full time for us," said Manzanares. "She played two-thirds of our season and served as a positive influence for our kids as someone who's dealt with adversity."
Molly served as an inspiration for others.  "At our annual Think Pink match with Cleveland to honor cancer survivors, we throw out game balls," Manzanares said. "Before the match, everyone grabbed Molly and told her, 'We want you to have our game ball.'  She shed a tear, it was an emotional and touching gesture on their part. This is what athletics is all about and what a team is all about."
Since then, Molly made a return trip to the hospital in November for a radioactive iodine treatment.  "They gave me a pill that kills any remaining cancer," she explained.  "They put me in a room with lead-lined walls to protect other people.  I couldn't be around them because I was radioactive."
The outlook now is good for Garretson.  "I have to go back this summer for scans, but for the most part, I'm all well," she said.  "Every month I also have to take a blood test to make sure my levels are fine."
Her plans for this fall include college, but she hasn't decided between Texas Tech or Texas A&M to study animal science or zoology as a full-time student without volleyball.  Until then, it's time at home with family during this COVID-19 pandemic.  "I'm trying to learn how to crochet," she said. "I can make a nice rectangle, that's about it."
Looking back, Molly says being diagnosed with cancer and beating it has changed her perspective a little bit.  "It chiseled away at the little things that don't matter as much," she said.  "I have my faith, my family and my golden retriever."
Ultimately, her message to others as a result of her battle is one that applies to us all during this national health scare, "You gotta stay strong in adversity and it will ultimately build your character."