Get To Know The Coaches: Sandra Pulido, Artesia High School
Sandra Pulido is originally from central California, but she is now firmly planted as a softball fixture in southern New Mexico.  Pulido has been the head softball coach at Artesia High School for the past five years and led the Bulldogs to back-to-back state titles in 2018 and 2019.  She grew up in Turlock (CA), an hour south of Sacramento, and earned a softball scholarship to play for New Mexico Highlands University.  Pulido earned bachelors' degrees in psychology and sociology and a masters degree in sports administration.  "To be honest, I had no idea what I wanted to do with my life," Pulido said.  "When I was 17 or 18, my mom was diagnosed with depression.  That sparked something in me, I wanted to know more, so I went into psychology."  The game of softball has been in Sandra's life since the age of eight. "It's a passion of mine," she said.  "It helped me get away from things when I was growing up.  I want to be able to give back to to the game that gave me so much."
Get to know a little more about Sandra Pulido.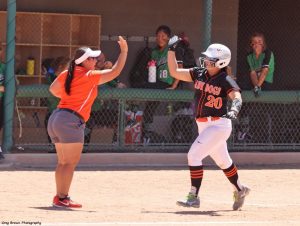 What sports did you participate in high school?
It was all softball. My mom wanted me to play volleyball, but I told her I was 4'10" and it's not going to work for me. I wasn't year-round until my sophomore year.
What was your favorite moment as an athlete?
That's tough. I think in Junior College my favorite moment was when we were at the NorCal Regionals. It was raining and the first time we had to play on turf. While all the other teams were sheltered, we were on the turf practicing. It sticks out to me because we were ready to play the next day. We won the next game, understanding what it takes to be prepared. It stuck out.
What's your favorite moment as a coach?
That's hard to say. Obviously in 2018 when we won state, that was probably one of the highlights. But for me personally, it's every day on the practice field. When the lightbulb goes off, those are my highlights. We can talk about winning state two years in a row with the same group of girls, but to see the girls when they 'get it' on a daily basis, that's meaningful.
What teacher or coach had the most influence on you?
Dan Pedretti, Tom Waterson and Jamie Newell. They were more than coaches.  They expected us to be better, not just as athletes, but humans. They held us to high expectations and treated us like we were their own, that was huge for me. The fact they held us to a high standard, but gave us grace when we made a mistake.  A lot of what I do, my style, was instilled in me with what they did.
What was your favorite subject in school?
Math, which is weird because I don't like math now.
What tv shows do you watch on a regular basis?
I don't really watch tv.
How do you spend most of your free time?
I like to read.
Do you have a favorite author?
His name is Brendon Burchard. He's a high-performance coach and deals with the mental aspect of things and how to get you to the top.
What's your favorite candy?
It depends,fruity or chocolate? Probably, Peanut M&M's.
If I called up the music on your iPod, what artist would I see the most songs from?
Probably Brenton Wood
If I were to take you to the airport and buy you a ticket to anywhere in the world, where would you go?
I don't know. Probably, Switzerland.
Have you been there?
No, but it looks pretty.
If you could only have one food for the rest of your life, what would it be?
Tacos
What is your life motto?
My college coach would tell me 'Bring Everything Always', that was his thing. If you always have everything, you're not going to worry about forgetting something, like uniforms. If you're missing a stirrup, you're not playing. Always be prepared. Another one is 'If you're going to do something, do it right.' Also, 'Small Things Make Big Things'.  We focus on fundamentals a lot.