Ralph Ortiz BPOE Elks Club of Santa Fe Scholarship – Nataley Mondragon, HS
The New Mexico Activities Association is excited to announce the recipients of the 2019-2020 NMAA Foundation Scholarships.  Over 150 students were nominated or submitted applications, with a total of $22,000 being distributed through 18 different scholarships.  There were nine scholarship categories.  The NMAA will recognize each of these students individually on our website and social media platforms.
Nataley Mondragon of Melrose High school received a $1,000 Ralph Ortiz BPOE Elks Club of Santa Fe Scholarship.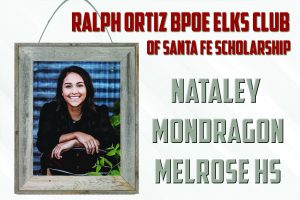 Nataley Mondragon is a senior at Melrose High School and will finish her high school career as one of the most decorated student-athletes in the school's history.
She has earned an incredible 10 state individual title in track & field and is the current record holder in Class 1A in the 100, 200 and 400-meter dash. In 2017 and 2018, Mondragon was the Class 1A State High Point Athlete of the State Track & Field Championships, helping her team to the state title in 2018.
Mondragon has also been a part of two state championship volleyball teams, in 2015 and 2017, and two state championship basketball teams, in 2015 and 2016. She was named an All-District and All-State selection eight times in basketball and volleyball and was picked to play on the North/South All-Star Volleyball team in 2019.
In addition to her athletic accomplishments, she is also involved in Fellowship of Christian Athletes, FFA, BPA, National Honor Society and MHS Dinner Theater Productions. Mondragon carries a 4.07 GPA.