LOS ALAMOS STATE CHAMP "LOOKING FORWARD TO THE FUTURE"
Becca Green of Los Alamos High School is a three-time state champ in the shot put and a two-time state champ in the discus.  She had goals of breaking state marks this spring in her final high school season.  Now those plans are wiped away because of the coronavirus.
"I was really sad, honestly," said the senior.  "I was really looking forward to this season.  It was going to be my best yet."
Green was on pace for more state titles and possible state records.  Last year, Green won the shot with a throw of throw of 38'4.75" and she was less than two feet shy of the state record in the discus with a winning throw of 134'6".  "It would have been crazy to see what I could have done," Green said.  "I was throwing every day.  I recently just threw five feet further in the discus and two feet further in the shot."
Green, like all seniors, is dealing with the reality that her final season of high school competition won't take place.  However, Green won't let the cancellation of spring sports put an end to her practice schedule. "I've been working out on my own, home workouts and stuff," she said.
Green has a good reason to continue her training.  She committed to compete for New Mexico State in the fall.  "Track's not over for me," she added.  "I feel bad for the other seniors, not going to the collegiate level.  I'm looking forward to the future because I have more years of track ahead of me."  Green is looking forward to her collegiate career with dreams of eventually getting to compete in the Olympics someday.
Green first got involved in throwing when she was in the seventh grade and her dad suggested she give it a try.  "I was a big girl for the seventh grade," she recalls. "I started throwing and found out I was pretty good at it. I started getting records in 7th and 8th grade."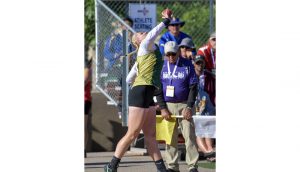 Green likes the explosive nature of throwing the shot put and discus. "It's about strength and technique," she described. "I have a passion for it, it's one of my favorite things to do. If you're having a bad day, you can go out and throw and get your anger out."
Speaking of getting that anger out, what would Green tell others who are frustrated about losing their opportunity to compete?  "I would tell everyone in spring sports to use this time as an opportunity to get better," she said. "Use this time to work and get better for yourself for the future and stay positive."