GET TO KNOW THE COACHES: KRYSTIE ARREOLA, LOVINGTON HIGH SCHOOL
Krystie Arreola is Lovington blue through and through.  She was born in Edmond, Oklahoma but moved to southern New Mexico when she was in elementary school.  When she was six years old, her family moved to Lovington where her father, Speedy Faith, was a football coach at the high school.  She would grow up and become a Lovington Wildcat herself, graduating in 1993.  After college, she returned to Lovington and has been a teacher and cheer coach for the last six years.  Krystie recently retired as the school's cheer coach to focus her attention on her new role as the librarian and testing coordinator.  "Cheer requires a lot of time and energy year-round," she explained.  "It's best for me and my family to focus on them and my career right now."  Krystie is married to Robert Arreola, the high school's current athletic director.  They have two children, Brooklyn (15) and Bronx (13). "Brooklyn, named after the Brooklyn Dodgers," Krystie explained, "And Bronx after the Bronx Bombers."
Get to know a little more about Krystie Arreola.
What sports did you participate in high school?
I cheered my freshman year, but opted not to for the remainder of high school.  I did play tennis as well. I was very involved with the football program. I grew up as the daughter of a football coach. I encompassed myself in football. I coined myself as Sheryl, from Remember the Titans, because that's the life I led.  I wanted to coach football. I wanted  to run a 4-3 defense and run the spread, run the option. So, if anybody out there needs a coach… (laugh)
What was your favorite moment as an athlete?
I think the practices were actually my favorite. The practice is the journey that builds you up to the reward. At the time, the practices didn't seem that fun, but looking back, that's where our memories were gained. In the spring, you got all kinds of weather. Now, I look back and appreciate all those times from a tank top to a parka, those memories were crazy!
What's your favorite moment as a coach?
Obviously, hearing the announcer say "And your 2019 Co-Ed 4A Cheer State Champs…" and "Your 2018 5A State Champs, the Lovington Wildcats!". Knowing all the dedication and blood sweat and tears they endured was, within that moment, rewarded for them. Those moments get me teary-eyed. All six years, just the blessing they are to me, is huge. I consider them my own kids.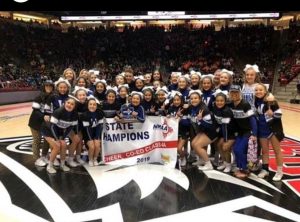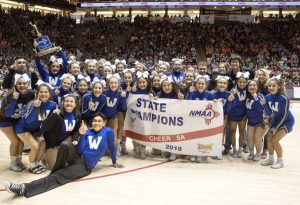 What teacher or coach had the most influence on you?
The obvious answer is my dad. He was my teacher and coach all my life. I've learned life lessons from him. My second-grade teacher, Mrs. Townsend, she inspired me to be a teacher.  She was strict as all get out, but there was something in her that influenced my life. I would also have to say my first-grade teacher, Mrs. Duncan. Those are the times when you are so impressionable.
What was your favorite subject in school?
I'd have to say English.  I became an English teacher.  I love literature.  You get lost in it.
Do you have a favorite book or author?
The Bible, but I also enjoy Nathaniel Hawthorne.  I recently did a lesson and message for my students on The Scarlet Letter.
What tv shows do you watch on a regular basis?
I'm not a big television watcher. We don't have time as a cheer coach. Back in the 90's, Friends was my favorite show.  I loved it! Just recently, I tuned in to watch The Voice. Lovington's Gigi Hess performed, so I tuned in to watch her. Mostly we watch sports. We are tuned into the NFL on Sundays.
If I give you the power to put any movie on tv you want to watch, what movie would it be?
Grease, no doubt. I grew up an Olivia Newton-John fan. She is my hero to this day.
Did you ever get a chance to meet her?
I did! I have a picture with her from just a few years ago. She did a concert in Odessa.  We saw her in concert.  My dad bought tickets for my birthday.  We went backstage and got a picture. It was incredible!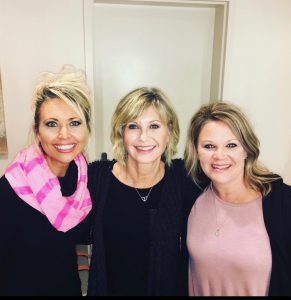 If I called up the music on your iPod, what artist would I see the most songs from?
I have such a variety of music. Christian music is my go to, then it's 90's music. You'll find REM, Metallica, Red Hot Chili Peppers.
If you could go on vacation anywhere in the world, where would you go?
It would have to be a beach. You give me sand and water and I'm happy.
What's the one food you can't do without?
If anybody knows me, they know I can't cook. I'm a terrible cook, but I love food. If I had one last meal, I would choose a juicy steak and potatoes and macaroni, and cheesecake for dessert.
What is your life motto?
I have a lot that I live by.  You can't go wrong with the Golden Rule. I've always said 'Believe in God, Believe in yourself and Believe in each other.'