Coach Dick Shelley St. Michael's HS Basketball Scholarship Alicia Varoz –West Mesa
The New Mexico Activities Association is excited to announce the recipients of the 2019-2020 NMAA Foundation Scholarships.  Over 150 students were nominated or submitted applications, with a total of $22,000 being distributed through 18 different scholarships.  There were nine scholarship categories.  The NMAA will recognize each of these students individually on our website and social media platforms.
Alicia Varoz of West Mesa High School received a $1,000 Coach Dick Shelley St. Michael's High School Basketball Scholarship.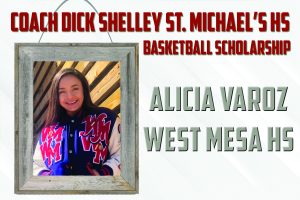 Alicia Varoz, a senior at West Mesa High School, has excelled in the classroom and the playing surface during her high school career. She has competed in basketball and cross country for the Mustangs, helping her team to the 2019 State Basketball Championship and the 2018 Metro Basketball Tournament Championship.
Varoz also found success at the NMASC State Conference in 2019, where she was a part the Mustangs Student Council that received honors as Gold Student Council of the Year, first place in Scrapbook and first place for Project of the Year.
She is a member of the National Honor Society and is also involved in West Mesa's Student Senate, holding the office of Senior Class Vice-President. Varoz also participates in High School Technical Mathematics for Skills USA. She is ranked Number 1 in her class and carries a GPA of 4.596.