LONGTIME FARMINGTON TENNIS COACH RETIRES AFTER 44 YEARS
44 years.
That's how long Larry Larson has coached the Farmington High School Tennis Team.
44 years.
And now that chapter in his coaching career is complete.
Larson recently announced he is retiring as the Scorpions head coach. "I've been thinking about it for a while," Larson said.  "I realize how important it is to see my grandchildren now."
Larson, who has three grandchildren, "two in Fort Worth and one in Albuquerque", was asked if the cancellation of the spring season due to the coronavirus had anything to do with his decision. "I wrote a letter of resignation last year," he explained. "It sat on my microwave and I didn't do anything with it until now."  Retiring after this season was the plan all along.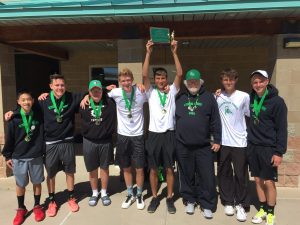 Larson took over the Farmington program in 1977.  "We couldn't win a match," he recalled.  "I had to claim one win because Espanola had a bus crash coming over to play and that was our only win."  Since then, he's had plenty of victories.  "In the late 80's, we went four years without losing a match," he said.  "That was an awfully good group of kids.  Jeff Clark was my only state singles champion ever (1990).  Bode Avery and Stacy Ross were two-time state doubles champions.  I've had some great teams."
Larson stayed more than four decades in the Four Corners despite not being a native New Mexican.  He grew up in Wyoming. "A teaching job brought me here," he said.  "I was a math teacher and couldn't get a job.  I came to Farmington hoping to coach the team.  I only knew a little bit about the city from the Connie Mack World Series."  It turned out to be a home run hire for Farmington, but it took a little time to build a winning program.
"I lost a bunch of kids the first year," he said.  "They wanted to do their own thing and I said no.  I told them they had to come in every day and expect to work hard, don't expect someone else to do stuff for you.  You have to put in the time."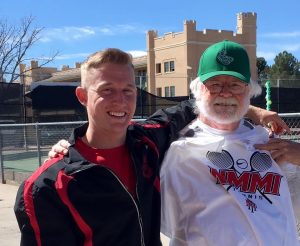 Putting in the time and hard work is something Larson can relate to.  44 years of coaching can attest to that.  His longevity and dedication to the program must be contagious. Larson spent over a quarter of a century coaching side-by-side with Farmington High School girls tennis coach Pat McGrath.
"He's a great coach," Larson said of McGrath. "He's a hard worker who expects a lot."
The praise is mutual between the two.
"I am very lucky to have been able to coach with him the past 26 years," said McGrath.  "He taught me that you don't just coach during the season.  To be successful, you're out there all the time and have fun with it.  He made Farmington tennis one of the best teams in the state every year."
So, what's next for Larson? "I'm hoping to move to Fort Worth," he said. "I haven't gotten to know those grandkids enough.  My son is the tennis pro there and might get me a part time coaching job.  I can still do it, I just have to do it somewhere else."
IN OTHER TENNIS COACHING RETIREMENT NEWS:
Albuquerque Academy boys tennis coach Ray Jaramillo announced he is stepping down.  Jaramillo took over the Chargers in 2012 and won a team title every year since.  Albuquerque Academy has won 17 consecutive state team championships, the last 8 under Jaramillo.