"Compete with Class" Sportsmanship Scholarship presented by NM National Guard – Jerrick Maldonado, Clovis HS
The New Mexico Activities Association is excited to announce the recipients of the 2019-2020 NMAA Foundation Scholarships.  Over 150 students were nominated or submitted applications, with a total of $22,000 being distributed through 18 different scholarships.  There were nine scholarship categories.  The NMAA will recognize each of these students individually on our website and social media platforms.
Jerrick Maldonado of Clovis High School received a $2,000 Compete With Class Scholarship presented by the New Mexico National Guard.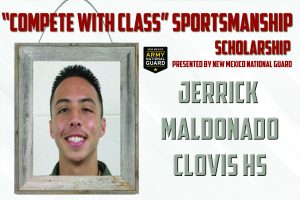 Jerrick Maldonado, a junior at Clovis High School, competes in cross country for the Wildcats.  His gesture during the 2019 Laguna Burger State Cross Country Championships was a perfect example of the value of integrity the New Mexico Activities Association looks for in a student-athlete.
The finish in the Class 5A Boys Individual race came down to the Clovis distance runner and Piedra Vista's Triston Charles. The two hit the mat almost simultaneously.  Maldonado was declared the winner by the timing system but, to many spectators, it appeared that Piedra Vista's Charles was the first one to cross.  Video replay is not used to verify any official results at the state cross country meet, so the outcome would be determined by the computer timing system.  Less than 48 hours later, Maldonado, the originally declared winner by the timing system, came to his own conclusion that he didn't cross the finish line first.  Maldonado felt like it was Charles who actually won the race and that his first-place medal should be awarded to his opponent, the senior runner from Piedra Vista.  Jerrick Maldonado's display of honesty and strong moral principles is how he Competes with Class.