"Compete with Class" Sportsmanship Scholarship – Caitlyn Sanchez – Carlsbad High School
The New Mexico Activities Association is excited to announce the recipients of the 2019-2020 NMAA Foundation Scholarships.  Over 150 students were nominated or submitted applications, with a total of $22,000 being distributed through 18 different scholarships.  There were nine scholarship categories.  The NMAA will recognize each of these students individually on our website and social media platforms.
Caitlyn Sanchez of Carlsbad High School received a $1,000 Compete With Class Scholarship presented by the New Mexico National Guard.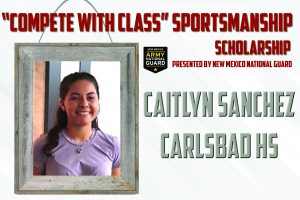 Caitlyn Sanchez, a junior, competes in golf for Carlsbad High School.  The compassion she showed for her competitor at the state golf championships was a demonstration of respect, one of the pillars of the Compete with Class initiative.
Sanchez noticed a wrap on the hand of one of her competitors, Piedra Vista's Sam Harris, who was hindered by a hand injury during the event. The two had never met before and ended up playing together during the state championships. Sanchez could see that Harris was clearly struggling with her injury.  Sanchez had worked as an athletic trainer for her high school during the basketball and football seasons her sophomore year.  She felt obligated to help Harris get around the rest of the course.  In a class act of sportsmanship, Sanchez volunteered to push Harris' cart for the remainder of the round.  Sanchez didn't expect any thanks for the gesture and her act almost went unnoticed.  Selfless and heartfelt acts of kindness is how Caitlyn Sanchez Competes with Class.