Activities Scholarship presented by Subway – Rae-anne Williamson – Fort Sumner
The New Mexico Activities Association is excited to announce the recipients of the 2019-2020 NMAA Foundation Scholarships.  Over 150 students were nominated or submitted applications, with a total of $22,000 being distributed through 18 different scholarships.  There were nine scholarship categories.  The NMAA will recognize each of these students individually on our website and social media platforms.
Rae-anne Williamson of Fort Sumner High School received a $1,000 Activities Scholarship presented by Subway.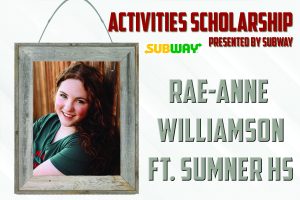 Fort Sumner senior, Rae-anne Williamson, has been involved in both activities and athletics for the Vixens, including Student Council, FFA, basketball, cheer and track, while carrying a 4.198 GPA.
Williamson was a member of the Vixens 2018 2A State Basketball Championship team, while also winning the State Championship in the shot put and discus that same year. In fact, she is a two-time State Champion in the shot put, also winning in 2017.
In the activities world, Williamson has been involved in several programs and has attended many conferences including, the 2019 American Legion Auxiliary New Mexico Girls State Convention, the 2018 National Student Leadership Engineering Conference, and the 2018 Hugh O'Brien Youth Leadership Conference. She is also a member of the 2019 Systems-Go program, National Honor Society and the Student Health Advisory Council organization at Fort Sumner High School.