SUBWAY STUDENT SPOTLIGHT: AVANTE STEVENS, EUNICE HIGH SCHOOL
Avante Stevens is a three-sport star at Eunice High School with football, basketball and track to keep him busy during the year.  It's his work on the gridiron that grabs most of the attention.
During his high school career, he produced some eye-popping statistics.  He caught 33 touchdown passes for over 2,400 yards and also rushed for another 11 scores.  On defense, he had 19 interceptions, five of those were returned for touchdowns.
He started at a young age with flag football.  "My dad told me I should play," Avante said.  "I tried it and fell in love with it and ever since then I've been playing and I can't stop."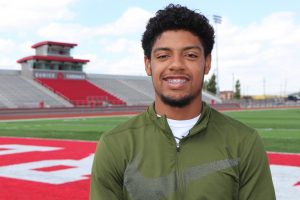 His passion for the game is fueled by the crowds, his teammates, along with the energy and excitement of scoring (something he's VERY familiar with!).  "I love everything, the teamwork, the bonding," he explained.  "When you score a touchdown, you have all these fans cheering.  It's an amazing experience that some schools don't get to experience."
Eunice High School has a very impressive football field and facility and Stevens is one of the few who can say he's never lost on his home turf during his career.
Avante's reason for competing is the opportunity to participate in something bigger than himself.  The town of Eunice is passionate about their school AND their football!  "We get to put our town out there," said Avante.  "We get recognized for the athletes we are and how respectful we are.  It's not just about football.  Sometimes it's about getting to know us as people."