BILLY REACHES 1,000 CAREER POINTS AS #1 PIEDRA VISTA IMPROVES TO 22-1 (SATURDAY SCORES & HIGHLIGHTS)
Piedra Vista's Lanae Billy scored 11 points in the Panthers' 53-36 win over Eldorado on Saturday.  Billy reached the 1,000 point plateau for her career as a sophomore.  Top ranked Piedra Vista improves to 22-1 overall.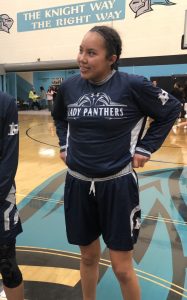 Here are other high school basketball scores from Saturday.
Boys
Albuquerque Academy 62, Los Lunas 50
Albuquerque High 52, Los Lunas 50
Eldorado 79, Piedra Vista 57
Escalante 73, Questa 34
Espanola Valley 62, Pojoaque 46
Evangel Christian 51, Jemez Valley 41
Goddard 67, Portales 64
Grady 80, Hondo 48
Grants 60, St. Pius X 52
La Cueva 69, Farmington 44
Logan 73, Clovis Christian 64
Lordsburg 65, Capitan 29
Los Alamos 41, Moriarty 37
Melrose 66, Cimarron 27
Menaul 68, Native American Community Academy 48
Mesilla Valley Christian 71, Cloudcroft 50
Monte del Sol 66, Academy for Technology and The Classics 54
Mora 61, Penasco 38
Morenci, Ariz. 45, Cobre 36
Navajo Pine 68, Tse Yi Gai 31
Raton 57, Sangre De Cristo, Colo. 46
Robertson 72, Santa Fe Indian 35
Springer 67, Mosquero/Roy 42
Tatum 60, Floyd 27
Valencia 68, Belen 39
Girls
Academy for Technology and The Classics 60, Monte del Sol 21
Animas 42, Cliff 29
Bloomfield 47, Shiprock 38
Cloudcroft 60, Mesilla Valley Christian 18
Coronado 40, Mesa Vista 32
Escalante 56, Questa 53
Hondo 44, Grady 40
Kirtland Central 51, Gallup 37
La Cueva 68, Farmington 51
Logan 62, Clovis 12
Lordsburg 56, Capitan 21
Miyamura 36, Aztec 32
Morenci, Ariz. 45, Cobre 36
Mosquero/Roy 65, Springer 14
Pecos 59, Rehoboth 33
Penasco 62, Mora 36
Piedra Vista 53, Eldorado 36
Pojoaque 48, Del Norte 37
Portales 50, Goddard 47
Quemado 50, Reserve 33
Tohajilee 51, Mountainair 34
Tse Yi Gai 69, Navajo Pine 55