HAVE YOU HEARD OF ELI DAVIDSON? HE MIGHT LEAD BOSQUE TO THEIR 1ST BOYS BASKETBALL TITLE
The Bosque School athletic program is known for state titles in tennis, soccer, cross country, volleyball and even golf, but not basketball.  "It's very different because in previous years we haven't been that team that people are trying to go after," said senior Eli Davidson.
"It's not our goal to prove anybody wrong," said 3rd year head coach Clifton Davidson.  "It's our goal to go as far as we can and to continue to perform."
Now the Bobcats sit on top of the basketball world as one of the teams to beat. "We're a really fast team, we move down the court very quickly," said junior Finn Hautau.  "We play really tough defense and shoot a lot of three pointers.  I'd say we're a good all-around team and really fun to watch."
One high flyer who is fun to watch is senior Eli Davidson.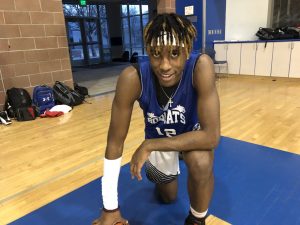 "If you haven't seen him, you need to," said sophomore Anthony Sanchez.  "He could change the momentum of a game so fast and he has ridiculous hops."
"Eli is the most insane athlete I've ever played with," said Hautau.
Eli Davidson is 6'4, averaging about 20 points a game and committed to play at Western Colorado University.
"I think he's the best player in New Mexico, but nobody sees him because he plays here" said his coach and father Clifton Davidson.  "I challenge anyone, you come here and watch him play and you wouldn't question that anymore.  More than that, he's a team player.  He cares more about making this team more successful than he does about his own stats."
"Sometimes you have to sacrifice," said Eli.  "I could be putting up 45 points and doing my thing, but if we're not winning then there's no point in doing it."
Even with one of the top records in Class 3A and one of the most dynamic players on the court, it's still tough to change the perception of the Bobcats.
"I think people still look at us and say, 'That's still Bosque'," said their head coach.  "People still expect to beat us and they expect that everything that's happening is a fluke and we're ok with that."
"It's certainly fun to have the challenge of a team bringing their best to you and trying to. Stay ahead of them for the whole game," added Hautau.
Bosque has never won a state basketball championship, in fact, they've never even played in the final game.
"Our motto this year is together we rise," explain Clifton.  "We have started to build that relationship and build that family and build our core and we want to bring that up from the bottom to the top."
We'll see if the Bobcats can rise to the top and reach the final on March 14th.