COMPETE WITH CLASS MOMENT: DISTRICT RIVALS COME TOGETHER FOR COMMON CAUSE
Did you know Black+White+Platinum+Brown+Gold=Orange? It does when two basketball teams come together for a common cause.
The Volcano Vista girls basketball team hosted the Cibola Cougars for an "Orange Game" on Thursday night to raise money and support Mikey Neidigk.  Mikey is a 4-year who is battling leukemia.  Leukemia awareness is represented by the color orange.  Students sold orange ribbons for $1, the gym was decorated with orange balloons and streamers and the walls were covered with positive messages for Mikey written on orange basketballs.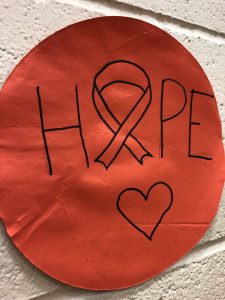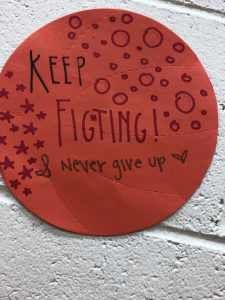 "We're one community when it comes to fighting battles like Mikey Neidigk is fighting," said Volcano Vista head coach Lisa Villareal. "If we can come together as one and support families and their fight, that's all that matters."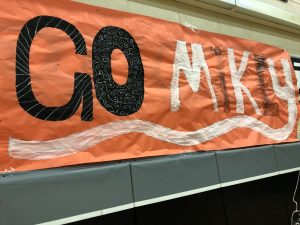 The Hawks and their fans raised $1800 to donate to the cause.  The Cibola girls program raised $500 themselves to help the Neidigk family with medical expenses.
"We wanted to do what we could to help the young man that has cancer," said Cibola head coach Lori Mabrey.  "We definitely get after each other between the lines, Lisa and I are very competitive and our teams are very competitive, but we're all on the same side for a greater cause tonight."
"It's bigger than the game tonight," said Volcano Vista sophomore Kennedy Brown.  "It's about getting everyone to support them and their challenges what they're going through right now."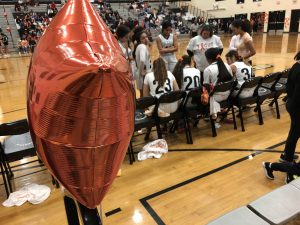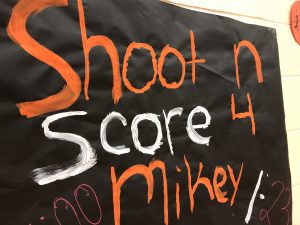 While the Cibola Cougars joined in support with the Hawks for Mikey, Volcano Vista showed their support of one of Cibola's players battling a medical condition of her own.  Cibola's Adamari Waddell has been in and out of the hospital after doctors discovered a blood clot in her lung.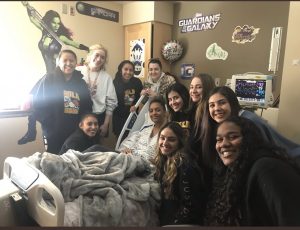 *photo courtesy Twitter/Lori Mabrey
"There's a lot more to living than just a high school basketball game and we certainly hope this young man continues to fight his battle and we're giving Adamari our best wishes for her speedy recovery as well," said Mabrey.
In the end, Volcano Vista beat Cibola 49-36, but the real winner was the community that has two district rivals that know how to Compete with Class.