UNDEFEATED HOBBS GIRLS ARE "BATTLE TESTED"
Hobbs is back for more.  It may be a new season, but the Lady Eagles girls basketball team is off to another great start to the season.  Hobbs is 10-0 on the year, 9 of those coming away from home.  "We are battle tested," said head coach Joe Carpenter.  Hobbs had only had one home game so far this season. "It just happened that way on the schedule," said Carpenter. "I like playing on the road early. You don't want to lose late in the season, so I like to try and schedule home games then."
Speaking of scheduling, sometimes it's a challenge to find teams to play when you are located in the southeastern corner of the state.  "I coached in Roswell for 16 years and we played Las Cruces, Hobbs, Clovis, and mix in Albuquerque Academy or Rio Rancho," Carpenter said.  "It wasn't as difficult to get games in Roswell, but when you're in Hobbs they don't want to play you as much.  When you've called everyone in New Mexico and still need 8 more games, you start calling Texas. It's a travel thing and a money thing."  Hobbs is still one game short on the schedule and will play Trinity Christian (TX) twice.
Anyone willing to take on Hobbs will find, not much has changed in the four years Carpenter's been running the program.  They like to run and press and control the pace.  They've already scored 70 points or more five times this season.  "We're definitely pressing," Carpenter said about their style of play.  "This is Hobbs, I don't want to get booed out of the gym," he joked.
"We press as much as we can and sometimes we have to disguise it, but we still get after ya.  We keep the pressure on you for four quarters."
As far as the roster, this year's group is a little young.  Carpenter starts an 8th grader (Anaya Joseph) and a freshman (Wisdom Anthony).  Joseph comes from a family that is used to up-tempo basketball. Her dad played at Arkansas for Nolan Richardson.  "She's a big kid who rebounds and scores easy buckets inside," is how Carpenter described Anaya Joseph.  "She's 6'1" with long arms."
Anthony is the only returning starter from last year's state runner-up squad.  "She's starting to get some college interest and her name will start getting out there," said Carpenter.  The Eagles also get significant contributions from junior Elise Turrubiates who had back-to-back 20-plus point performances last weekend.  Turrubiates has been on the varsity squad since her freshman year.  "She's coming on strong lately and that experience is starting to pay off," said Carpenter.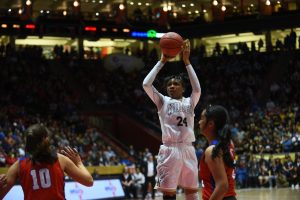 Carpenter has built the program into a serious contender every year since arriving.  "We've been 88-7, now we are 10-0, so we are 98-7 in three years," he proudly said.  Carpenter knows what it takes to get to the postseason.  In 16 years at Roswell, he reached the Final Four 12 times (winning it all with the Coyotes in 2016).  In 2018, Hobbs won the state championship under Carpenter.  In 2019, the Lady Eagles reached the final for the second straight year, but fell short to West Mesa (63-51).  Carpenter doesn't use last year's championship loss as motivation this season.  "Whoever is next, that's our motto," he said.  "There's no doubt this is a basketball town.  Some of the boys' fans are coming over to watch us and we are putting together something special."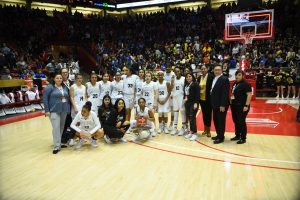 Despite their unblemished record at this point in the season, their head coach still sees room to improve.  "We have to mature and grow," said Carpenter.  "We are not as deep as we've been in the past.  We have an 8-man rotation.  We're just not as experienced, but we'll be alright."
Undefeated and #1 in the MaxPreps polls is more than alright.
Hobbs will host El Paso Coronado on Friday.
Here are some highlights from the Hobbs girls in a recent win at West Mesa