WHITE'S BACK AND DEMONS HOPE TO MAKE RETURN TRIP TO THE PIT
In 2019, the Santa Fe boys basketball team was a couple points short of the state title.  "Two or three buckets that went in instead of out and we'd have state rings on our fingers," said junior Cruz Martinez.  "It's definitely tough, but I do appreciate the whole journey we took there."
"Driving home with that red trophy on the bus didn't feel too good," admits head coach Zack Cole.  "That sits within us and drives us each day.  We're very thankful we won the red trophy, don't get me wrong, but we strive to be perfect even though we can't be and that's our approach."
The Demons would like to exchange that second-place red trophy for a first-place blue one.  Santa Fe lost to eventual champ Atrisco Heritage last season in the final and this year the Demons will be considered one of the favorites.  "Now we have a target on our back, where last year we weren't as known as we are now," said Martinez.  "It's more like we have to work hard to keep our spot rather than get back up there."
"It's a different mindset," explained Cole.  "You go from being the hunter to the hunted and we talk about that."
The Demons return eight players from last year's state runner up squad, including JB White, a highly recruited 6-7 junior standout who missed most of last season with a knee injury. "He looks healthy and he looks strong," described Cole.  "He put on 12 pounds and looks more balanced, now that he looks like he's healed up."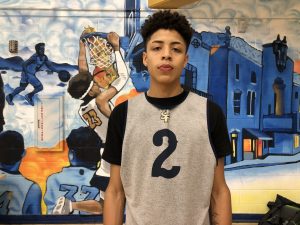 During the off-season, White committed to play basketball for the University of New Mexico.  He chose the Lobos over schools like Marquette, San Diego State and Utah.  Making his decision early was a big relief for White. "It was stressful because I was getting like 10-15 calls a day," said White.  "Now I got that out of the way I feel like I can focus on getting better in school and stuff like that, so it's really good."
You can expect the Demons to run the floor this year, just like they did last season. "It's just a fun style to play, it's a fun style to coach and it's a fun style to watch as a spectator," said Cole of his up-tempo style.
With White, some returning guards and another year of experience, head coach Zack Cole and the Demons could make another appearance at the Pit.  "We have to stay healthy to give ourselves a good chance," said Cole.  "We really like our team.  We really like our personnel.  The more we grow as a team and the closer we become to one another, the sky's the limit for these guys."
"All we want is that blue trophy," said Martinez.  "Coming that close and not being able to, that's basically the number one goal for this season."
Santa Fe will open the season December 5th against Los Alamos.