CLASS 3A-6A FOOTBALL STATE CHAMPIONSHIP PREVIEWS
Class 6A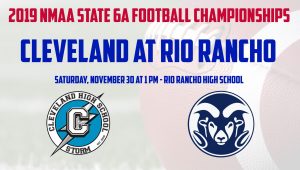 Cleveland (10-2) at Rio Rancho (8-4)
1pm Saturday
The Storm beat the Rams earlier this year 35-20.  Cleveland took a 14-13 lead into halftime and outscored Rio Rancho 14-0 in the third quarter.  The Storm scored 56 points last week against #2 Clovis and the Rams put up 48 against previously unbeaten Volcano Vista.
Cleveland head coach Heath Ridenour and running  back Dorian Lewis
Rio Rancho head coach David Howes
Class 5A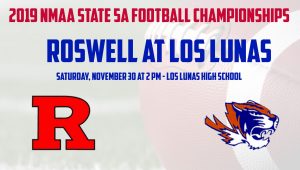 Roswell (12-0) at Los Lunas (10-2)
2pm Saturday
The Coyotes beat the Tigers 42-6 in last year's championship game.  The only Class 5A team Los Lunas lost to this year was Roswell, 56-33.
Los Lunas head coach Jeremy Maupin
They said it (not bulletin board material):
I feel we match up very well with them athletically.  I worry a little about matching their size along the offensive and defensive fronts.  They have good size.  Being on the right side of the emotion is the most important key.  It's the biggest game of the year, so it will be important to not let the emotion of it build us a hole with costly mistakes. There is not a lot of secrets between the two of us playing 5 times in 3 years.  I am fired up and I think it will be good game by two well coached teams.  – Jeff Lynn, Roswell head coach
Class 4A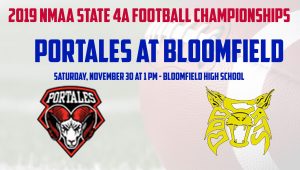 Portales (11-1) at Bloomfield (12-0)
1pm Saturday
The Rams only loss this year was a 44-12 defeat against Goddard.  The Bobcats have given up more than 14 points just three times this season.
They said it (not bulletin board material):
The most important keys to the game are the following: Defense we need to stop what they do well, Offense we need to take what they give us, Special teams we need to win the battle of field position, Win the turnover battle! The most crucial match up is our defense against their offense.  I anticipate a low scoring game. – Jaime Ramirez, Portales head coach
They said it (not bulletin board material):
"Both teams are strong teams who present a variety of problems for each defense. We must force Portales to earn everything they get while forcing turnovers and eliminating big plays. We must play as mistake free as possible and finish off drives.  The most crucial matchup will be our receivers vs their secondary.  I see a close game won by a touchdown or less." – Bob Allcorn, Bloomfield head coach
Class 3A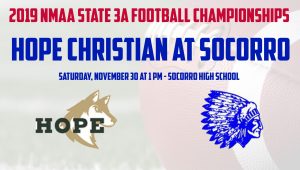 Hope Christian (10-2) at Socorro (11-1)
1pm Saturday
The Huskies are looking for their first state title in football and the Warriors are hoping for their first blue trophy since 1977.  The Huskies have eight shutouts this season and have only given up a TOTAL of 7 points in almost two months.
Hope head coach Gary Beck
Socorro head coach Damien Ocampo