COMPETE WITH CLASS: CLOVIS DISTANCE RUNNER DISPLAYS ACT OF SPORTSMANSHIP
Sometimes it takes an action by an upstanding individual to correct a technical error.  An act of sportsmanship like that can be a great example for others to follow.  Giving up a first-place finish is not something many people would do, but not every athlete is like Jerrick Maldonado from Clovis.
On Saturday at the Laguna Burger State Cross Country Championships, the boys Class 5A race was a memorable one.  Clovis distance runner Jerrick Maldonado went neck and neck with Piedra Vista's Triston Charles. In the final 100 yards, the two runners were side-by-side approaching the finish line.  The two hit the mat almost simultaneously.  Maldonado was declared the winner by the timing system, but to many spectators it appeared that Piedra Vista's Charles was the first one to cross.  Video replay is not used to verify any official results at the state cross country meet, so the outcome would be determined by the computer timing system.
"I was a little confused," Charles said of the result.  But as he stood on the platform to accept his second-place medal, Charles thought at the time, "I figured he was really close, so I wasn't going to worry about it."
Less than 48 hours later, Maldonado, the originally declared winner by the timing system, came to his own conclusion that he didn't cross the finish line first.  Maldonado felt like it was Charles who actually won the race.  So, Maldonado made a phone call to the New Mexico Activities Association saying he felt like the first-place medal should be awarded to his opponent, the senior runner from Piedra Vista.
"I'm surprised and relieved, I guess," said Charles after hearing the news he would be declared the winner.  "It's a good way to end my cross-country season."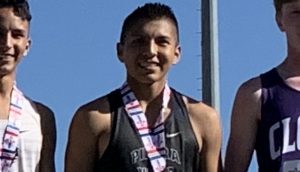 "We were disappointed at first, but Triston represented himself in a classy way," said Farmington Municipal School District Athletic Director Frank Whalen.  "It's another example of how good things happen to good people."
"We knew the result was based on the computer chip/timing system," added Whalen.  "So, you have to take your hat off to the kid from Clovis.  Every kid should learn to act that way.  This is how we all grow and get better for it."
Triston's cross country coach applauded Maldonado's decision. "That's pure class of a kid exemplifying what we instill in our athletes," said Piedra Vista cross country coach Sampson Sage.  "It's about being a good human being and give credit to Maldonado."