DULCE HAWKS HOPE TO SOAR TO SCHOOL HISTORY
In 2018, the Dulce volleyball program made school history reaching the state final for the first time ever.
"We still have that dream to get into that championship game this year, and the dream is to win it and not come in second," said head coach Kathleen Salazar-Valdez.
Dulce lost to eventual state champ Texico, but the Hawks return virtually everyone from last year's runner up team.
"We're kind of small, but we're strong," said senior Caitlin Duncan.
"When we're all doing our job on the court we're pretty special," said junior Jasmine Salazar.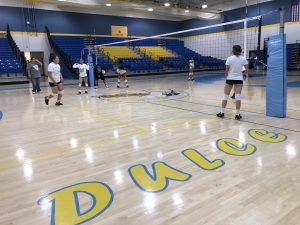 Dulce is having a great season and the experience of last year's state tournament should help them this time around.
"It showed us what to expect," said Salazar.  "Seeing the teams, how hard they work just to get there, we're capable as doing the same as them."
"We have experience so we know what to expect now, so we won't be as nervous," said Duncan.  "We'll be ready."
"Last year was the first year to make history, getting there, so bringing that experience here this year, they actually feel how it is to win and feel the praise and the love and the support that our community has been giving them since the end of last season," said their head coach.
Kathleen Salazar-Valdez is in her 17th year as head coach.  She describes this team as smart and quick with some power; that's where senior middle hitter Caitlin Duncan comes in.
"She has so much hang time that she could look everywhere on the court before she makes her choice on what she wants to do," described her coach.  "When we travel, young ladies seek her out. It's awesome to see that there are more role models now.  It's great that little girls come up and ask for autographs or just ask to hold her towel.  It's just so cute and something I wanted for my program."
Could this be the year for Dulce?  What would it mean to finally lift that blue trophy?
"That would be something!  We would be the first ever to do it.  That would be literally a dream come true," said a smiling Duncan.
"If these girls go and play and bring that blue trophy back, it would mean everything," said their veteran head coach.  "I may even resign (laugh), end on a high note."