THE DON OF A NEW ERA? WEST LAS VEGAS FOOTBALL HOPES TO CHALLENGE FOR TITLE
Baby steps, that's what West Las Vegas football coach Adrian Gonzales has been preaching each of the last six years and each year his group gets better.
"It literally is baby steps and hopefully we're playing in that last game November 30thand let the chips fall as they may when we get there," said the sixth year head coach.
West Las Vegas has never won a state title in football.  The last time they played in the championship game was 1969.  Last season they reached the state semifinals and they hope this is the year they win it all.
"Hopefully it's one that we make it all the way and get that blue trophy they've been telling us about ever since we were freshmen," said senior lineman Aron Parra.
The Dons are led by senior quarterback John Balizan who's been playing football since the fourth grade.  "We lived in a small town, Springer, and I never really planned on playing and we moved here and my mom just threw me in saying you're going to play," described Balizan.  "I didn't want to.  I started played on the line because I was chunkier.  Then I started to throw the football after practice and the coach said, 'You're our quarterback.'  Ever since then I've been growing and growing and I am where I am today."
Balizan is 6'3" and 195 pounds.  He threw for over 25 hundred yards and 24 touchdowns last season.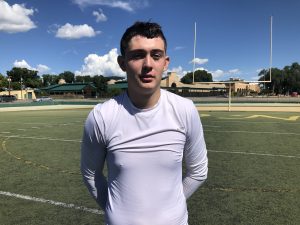 "He's been in this system for a while, since he was in seventh grade" said Gonzales.  "We've been able to add and add and add because he has tons of reps on him.  We feel comfortable that we can add something new on a weekly basis and he picks it up with no hesitation and that's what you need."
Gonzales expects a lot out of his senior quarterback who is in his third year as a starter.  "To lead us to something this program hasn't ever experienced football wise," Gonzales said about his expectations.  "It's been a long time coming.  We've been knocking on the door and hopefully he leads us through it and we kick that thing down."
The Dons are at Portales this Friday at 7pm.