COMPETE WITH CLASS: CLEVELAND HIGH SCHOOL FOOTBALL HONORS CITY OF EL PASO
The Cleveland High School football team recently traveled to El Paso for a road game against Franklin High School.  Before the game, the Storm, led by running back Dorian Lewis, presented a banner to the Franklin squad that read "El Paso Strong".  The idea came from Cleveland head coach Heath Ridenour.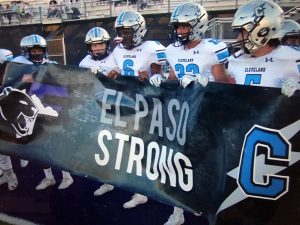 *photo courtesy KTSM
"Often times kids, and people in general, lose perspective on life and I believe it is important to keep things in perspective," Ridenour said.
The coach wanted to support the city and community who recently suffered following the tragic shooting this past summer.  "I wanted our team to be able to show our support for the city of El Paso and its community members.  It was a simple gesture that was from the heart."
The game matchup and message had even more meaning to Lewis who transferred from the El Paso area following his sophomore season.  The senior running back led the team onto the field with the banner last week.  "Football is just a game," Ridenour added.  "We want to win, but more than that we want to be good men.  Our thoughts and prayers remain with the city of El Paso."