ONATE HIGH SCHOOL BAND STUDENT DRAWS NATIONAL ATTENTION WITH EMOTIONAL PERFORMANCE
Isaac is a member of the band at Onate High School.  He is also intellectually challenged, but the music plays loud in his heart and his impact resonated nationwide.
According to Isaac's mother, Carissa Brealey Bonacci, Isaac rarely gets to participate in the same activities as his siblings.  She recently posted a message on Facebook that drew an emotional response from anyone who read it.
My middle son, Isaac, is severely intellectually disabled and rarely gets to participate in the same activities as his siblings. When Isaac started high school this year, my older son, Aidan, convinced me to let Isaac join the marching band. Isaac cannot play an instrument and needs constant supervision, so I was extremely skeptical. But marching band is Aidan's family-away-from-home, and I was touched at how much he wanted to share that with his little brother. I caved, and I've been blindly sending the two of them off to band camp and rehearsals for the last six weeks. I figured Isaac was helping set up equipment or run water bottles, and he came home every day very happy and chatty. What more could I want? 
Last night the boys had their first marching performance of the season. Isaac did not set up equipment or run water bottles. He PLAYED. He played percussion just like his big brother. He stood front and center in the percussion pit and totally jammed on a drum pad. The pad muted his playing, which was pretty off-beat and completely out of sync with the rest of the band, but he had the time of his life. I bawled.
The band director has thanked me for allowing Isaac to be part of the band, and Aidan has told me many times how much everyone loves having Isaac there, but I don't think I really got it until last night. I'm so used to Isaac being treated like a burden (with varying degrees of patience and tolerance), even by relatives. Seeing him be so thoroughly appreciated for who he is (and not judged for what he isn't) is something I never expected outside our family. I just had to share. I couldn't be prouder of both my boys.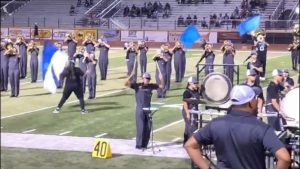 Since posting the message, the video has been viewed over 3.2 million times.  The story has over 47,000 shares with over 8,000 comments.
"Isaac had been playing on the field with the band since the very beginning," said Onate band instructor Valentino Leyba.  "He enjoyed drumming during our summer camps and plays during band class, so we didn't think twice about having him play during the show.  He enjoys helping set up and just like the other kids, he enjoys playing when the band plays.  He's a normal band student."
Needless to say, Isaac, his brother and the Onate High School Band has gotten a lot of attention lately.  "When we ask Isaac if he's famous, he says 'Yeah!'," said Leyba.  "For us as a staff and program, having Isaac as a real member of the band is no big deal.  Our program is extremely inclusive and every student, no matter their ability, will always have a job.  There are music programs all over the country who would do the exact same thing, and for ours to get so much attention is very humbling."
"It's our hope, and goal, to develop an understanding with our own students that there isn't anything you can't do," Leyba said.  "We teach our students that band isn't only about the notes, it's about the people.   The notes will come with time, but it's the people you play with that make the experience what it is.  The community has been extremely supportive and I hope they see the power and inclusiveness of music!"
Here is a link to the video performance that evening https://www.facebook.com/carissa.brealeyrood/videos/10219259403665443/