DEXTER DEMONS LOOK TO REPLACE 14 SENIORS
As the 2019 High School football season approaches, we will preview the defending state champs in each class.
Class 3A
Dexter High School
2018 record: 11-2
Head coach: Arturo Duran
Last game: 22-12 win over Robertson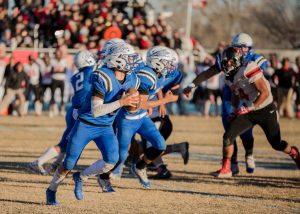 2019 Outlook: This year's squad is young.  Dexter lost 14 seniors on their 2018 championship roster.  The Demons have five returners on the offensive side of the ball.  They return four on defense.  Tailback Ricky Contreras will carry a majority of the load out of the backfield. Linebacker Tyler Brisco will be their key figure on defense.  "Offensively, our line is going to be a big factor how far we go this season," said head coach Arturo Duran.
Key returning players
Offense: Ricky Contreras, Tyler Brisco, Fernando Acosta, Marco Munoz, Peyton Austin
Defense: Brisco, Fuentes, Acosta, Austin, Marvin Johnson
"If we are going to be successful again, we need to play as a team the whole year." – Arturo Duran