LOCAL HIGH SCHOOL STANDOUT GETS MINUTES IN PRO FRIENDLY WITH NEW MEXICO UNITED
*photo courtesy Ron Patel/Twitter
Thursday night was a big day for the New Mexico United, but it was an even bigger one for Cleveland High School soccer standout Gabe Legendre.  The senior-to-be saw some quality minutes with the professional soccer club as the United met up with Cardiff City FC in a friendly match in front of an announced crowd of 6,347.  Legendre entered the match in the 75th minute.
Legendre is part of the United's High Performance Program which started a few months ago.  It gives New Mexico's youth soccer players an opportunity to train with New Mexico United coaches at zero cost to the players selected.   Legendre was the first player selected for the program.
The forward and midfielder led the Cleveland Storm to a 20-3 record and the Class 5A state championship this past season. Legendre recorded 32 goals and 13 assists, including a hat trick in the state semifinals. He produced three hat tricks and 10 multi-goal games en route to earning Class 5A co-Player of the Year honors. Legendre is also a two-time First Team All-State selection. He concluded his junior year with 59 goals and 17 assists in his prep soccer career.
"Hard work. Humility. Diligence. That's what Gabe brings every single time," said Head Coach Troy Lesesne in a release by the club earlier this month. "That type of player, with his level of understanding of the game at a young age; that's what we are looking for the first High Performance player that we are signing. "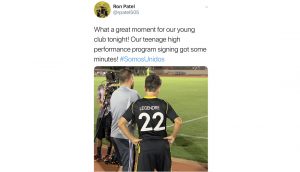 United Assistant Coach Zach Prince directs the program, which began with three viewing sessions in the month of June. Up to 100 players were at each of the viewing sessions, and of the 300 prospects, up to 60 will be chosen for the High Performance Program.
Legendre already participated in the first of ten 2 hour training sessions in 2019.  He will also have an opportunity to be included in competitive events in 2020.