HOAGLAND QUALIFIES FOR 2020 U.S. OLYMPIC TRIALS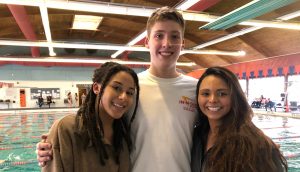 (Photo of Jack Hoagland, center, alongside his La Cueva teammates Natalie Jones and Chrysten Pacheco)
Former La Cueva High School standout swimmer Jack Hoagland qualified for the 2020 U.S. Olympic Trials in the 200 individual medley event.  Hoagland was competing this weekend at the 2019 Speedo Sectionals in Mt. Hood, Oregon.  He posted a time of 2:04.07.  The U.S. Olympic Trials standard time he had to reach was 2:04.09.
"I was ecstatic," said Hoagland after qualifying.  "We had to wait until they posted the time and when they did I went crazy!"  Hoagland had been training specifically to try and earn a spot at the Trials.  "The whole purpose of this meet was to focus on that event.  I've been training harder, getting my breathing right, working on my hand position.  I knew I had a shot to get it."
Also at the meet, Hoagland was nearly a full second faster than his seed time in winning the men's 200m free final.   He also finished second in the 400 free.  Hoagland placed third in the 400 IM with 4:30.63.  Albuquerque Academy's Jacob Hand was runner-up in that race with a best-by-5.2 time of 4:30.20.  Hoagland also had top ten finishes in the 200 breaststroke (5th) and 200 backstroke (9th).
Hoagland earned All-America status in the 200m IM, 200m freestyle and 500m freestyle, the same events in which he holds New Mexico records.  He graduated from La Cueva this past May and will swim for Notre Dame in the fall.
Also at the Speedo Sectionals, former Eldorado High School swimmer Lauren Burckel, who now competes for Washington State, won the 200 breaststroke event (2:30.80) and qualified for the 2020 U.S. Olympic Trials.  Burckel would also qualify for the Trials in the 100 breaststroke event as well.  Like Hoagland, it is also her first Olympic Trials cut.