FARMINGTON STUDENTS GO LIVE ONLINE
You're live in 5, 4, 3…
(two fingers held up, one finger held up..and point)
When it comes to high school student broadcast programs, Farmington High School has set a pretty high bar.  The department has grown tremendously from a single tablet to one with a recording studio, internet radio station and a long list of live stream events.
"We actually started with a single iPad," said John Curry.  "A couple students saw what we were doing, wanted to join, and then a couple more students, then I did some research and found how to attach a headset to an iPad and then it just blossomed from there."
Farmington media arts teacher John Curry started up the program more than five years ago following his previous work as a radio station general manager.  All of the audio and video programs are produced entirely by his students.
"We have the monster of the 24-hour, 7 days a week streaming radio station and every aspect that goes into there, the live, the voice tracking, the audio production, the interviews and so-forth," Curry explained.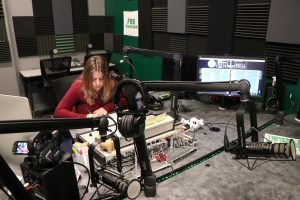 John is looking for real world application while they are still in high school.
"I want my students to walk into our studios, walk into the classroom, finish projects, complete the program here at the high school and be able to walk into a terrestrial radio station or a broadcast station and say, 'I've done that before, I know how to do that, I can do that for you.'"
John's been coaching sports for 28 years and to him this is just another coaching opportunity.  When students step outside themselves and take a chance and perform and succeed, that's the real prize.
"Years ago, we had a little girl come into the program just the shyest thing ever, didn't want to speak into a microphone" he said.  "At the end of the school year we have a banquet and we hand out awards.  At the end of that first year she won the Big Boss Award because she became a director, she was very vocal, she would direct students with what to do and how to do it.  Now that she's a senior, she's won the Big Boss Award every year.  When she first came to us, she wouldn't even look you in the eye and now she's the Big Boss."
Maybe that student will become a real-life Big Boss one day thanks to John and the student broadcast program he helped develop.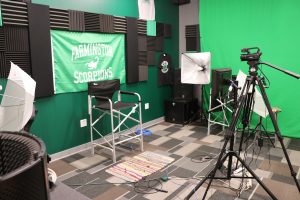 Broadcasts from the Farmington students can be seen on the NFHS network and on FHSLive.com.