NMSD BASKETBALL PLAYER MAKES HISTORY
This week New Mexico School for the Deaf graduate Deven Thompson made school history when he signed a National Letter of Intent to play basketball for Northern New Mexico College.  According to NMSD athletic director Letty Perez, Thompson is the first athlete from the school to earn a full athletic scholarship to a four-year college.
Thompson averaged over 25 points and 15 rebounds a game in helping the Roadrunners advance to the Class 1A State Quarterfinals this past season.  The 6'10" standout was also a state champion in the shot put earlier this month when he set a new state record with a throw of 49'6.5".
"We're really excited about it," said NNMC men's basketball coach Ryan Cordova.  "He's so athletic and he's a great kid."  Cordova will have to adapt by learning some sign language to help in communicating with Thompson, who is deaf.  "It's just like any other language," the coach said. "Learning sign language makes us better people and increases our awareness with others."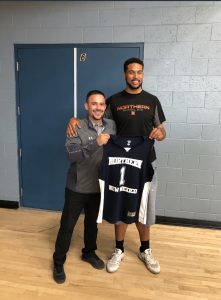 Photos courtesy NNMC/Twitter