GIRLS WRESTLING IN HIGH SCHOOL IS STARTING TO OPEN MORE DOORS
Girls wrestling at the high school level in New Mexico has grown over the past four years.  In 2017, there were more than 100 girls taking part in the sport.  Last season that number grew to 165.   Now even more high schoolers are starting to see the benefits of the exposure.  Manzano senior Jennesis Martinez recently announced her plans to wrestle for Colorado Mesa University in Grand Junction, Colorado.
"I think it shows there's opportunities for girls from New Mexico to wrestle," said Martinez.  "There's more than just high school wrestling for girls."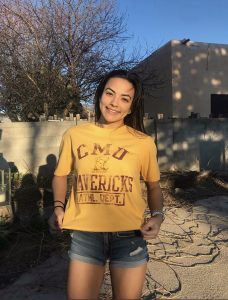 photo courtesy Jennesis Martinez/Twitter
Martinez chose Colorado Mesa University over Menlo College in California and Oklahoma City University. "I was looking into colleges not too far from home that offered female wrestling," she said.
Martinez first started wrestling at the age of 5.  "I got into it because my dad coached and my older brother wrestled," she said.  "I was always in the room when they wrestled, so I got into it."  As it turned out, she was pretty good at it.  Martinez started competing with USA Wrestling in the 7thgrade. The next year, she was a girls national champion.  Once in high school, Martinez started to have dreams of competing in college and decided to take matters into her own hands.
"This past January, I put together a recruiting video of some of my matches and posted it online," Martinez said.  It also helped that Martinez won her weight-class for the past two years at the state tournament.  The response she has received since announcing her college plans has been overwhelming.  "My friends and family and people at school are all really excited for me, it's something pretty big," she said.
Martinez is one of the few female wrestlers from New Mexico to compete at the collegiate level.  Loriann Archuleta of Peralta wrestles for Missouri Valley College.  This year was the first season for women's wrestling at Colorado Mesa University.  She will be the school's first 101-pounder.