SOME STORYLINES TO WATCH AT THIS YEAR'S STATE BASKETBALL TOURNAMENT
The Madness is about to begin in the state of New Mexico.  The state basketball championships get underway this weekend. There are 160 teams involved in ten different brackets.  Each school is hoping to lift the blue trophy the weekend of March 15-16.  Here's a look at some of the storylines to watch this March.
The Quest For Perfection
The Las Cruces boys basketball team enters the state tournament with an unblemished 28-0 record. They open the tournament Saturday night against Onate, a team they've beaten three times already this season. The last boys team to go undefeated was Magdalena (31-0) in 2015. (The last girls team to run the table was Pojoaque in 2009 when they finished 31-0)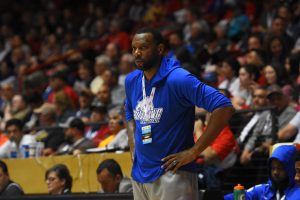 Three Peat Feat?
The Pecos boys basketball team is on a quest for a third straight state championship.  The Panthers are the top seed in their bracket, but they only return two players who saw significant playing time last season.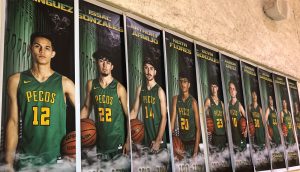 Is 7 His Lucky Number?
Hope Christian boys basketball coach Jim Murphy already reached the 800 win plateau earlier this season.  This month he will try to lead the Huskies to a seventh straight state title.  Seven consecutive state championships would pass the boys record of six by Albuquerque Academy.  Another championship would also give Hope 17 overall, tying them with Hobbs for the most overall in boys basketball state history.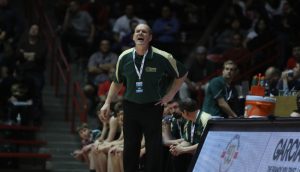 9 is even better than 7
The Elida girls are the eight-time defending state champs.  They will go for nine in a row this year.  Elida is already tied with Clayton and Kirtland Central for the most consecutive girls state championships with eight each.
Can They Get 20?
Speaking of Kirtland Central, the Lady Broncos have the top seed in their bracket.  The Kirtland Central program has 19 state championships to their name (none since 2012).  The Broncos are coached by Kirtland Central alum Devon Manning who is among the group of all-time leading scorers in state history.  Manning is 9thon the list of New Mexico's all-time leading scorers with 2,217 points in his career.  He is also in the record book with 793 field goals and he made 204 free throws in 2003 (6thbest in state history).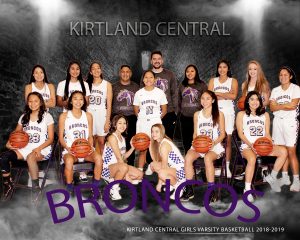 It's Easy Being Green
Larenson Henderson is in his first year as the Farmington girls basketball head coach.  The Scorpions earned a seven seed and will host Cleveland.  Henderson went to Farmington after several successful seasons at Shiprock. Henderson spent six years in charge at Shiprock and reached the state final three times over a four-year span, winning it all in 2017.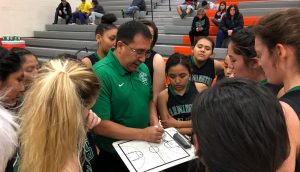 The Can't Miss Kid
It will be hard to miss New Mexico School for the Deaf senior Deven Thompson.  He's 6'10" and second in the state in scoring with 26.2 points per game.  He tops the state in rebounds (16.2) and blocks (3.2).  NMSD will host Vaughn in a first-round matchup.
White In or White Out?
Santa Fe super sophomore JB White injured his knee back in early January against Clovis.  An MRI revealed he did not suffer any tears or structural damage, but he was expected to miss most, if not all, of the season. Santa Fe will host Manzano in a first round matchup on Saturday.  White's availability is still up in the air.  White has received offers/interest from UNM and Utah, among others.
First time for everything
Pine Hill will host a state tournament game for the first time ever.  The Pine Hill girls basketball team received a #4 seed in the Class 1A bracket.  They will host Roy/Mosquero on Friday night.