POJOAQUE WRESTLER GOING FOR 4TH STRAIGHT STATE TITLE
When the state wrestling championships are decided, don't be surprised if you see Javier Tapia's hand held high in the center of the circle.  He's already a three-time state champ with a goal for four.
"It's going pretty good, it's been a fun year," said Javier.  "It's senior year so you have to go all out."
Tapia did not lose the last two seasons.  He finished his sophomore and junior years with an undefeated record.
"Going undefeated isn't really the goal. It's just challenge the best and wrestle the best and get your name out there and get to the next level," said the Pojoaque High School standout.
He's bounced around in weight classes and this year he decided to take up a challenge of facing defending state champ Justin Wood at the Joe Vivian meet.
"I've always grown up thinking in order to be the best you've got to beat the best.  Me, I want to challenge the best at every weight class and see who the best really is."
It turned out to be Tapia's first loss since his freshman season.
"He's been wrestling 170 most of the season," said his father and coach Johnny Tapia.  "We dropped down to 160 to take on Carlsbad's Wood.  We took a defeat on that one 3-1.  He's gone all the way up to 95s at the beginning of the season.  He wrestled Gabe Garcia from Cleveland who, in my opinion, is one of the best 195 pounders in the state.  We've gone up and down from 60s to 95s and he's taken the challenge on."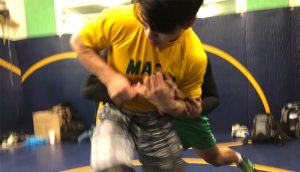 "I'm more of a defensive wrestler, offense hasn't really been my thing, especially having to wrestle my brother every day," Javier said.  "He gets into his offense first, so I had to learn to stick to my defense."
His brother Jose won five state titles.  Javier can win four, but team Tapia knows it's going to take some work.
"Anything can happen at the state tournament, I've seen #1 seeds go out almost every year," his coach added.  "We'll put the work in and work hard here in our practice room and hopefully he can make the state finals and hopefully win another one."
The state wrestling championships start on Friday at the Santa Ana Star Center in Rio Rancho.