MIDDLE SCHOOL MATCHUPS A FIRST IN NEW MEXICO
There's a first time for everything and that time is this Friday.  The 'first' is a meeting of two middle school programs from two different regions of the state.
On November 30th, the Koogler Middle School girls basketball team will take on the Rio Rancho Middle School girls in a first-ever matchup between the two programs.  The event will take place at Rio Rancho Middle School with the JV starting at 4pm and the varsity tipoff scheduled for around 5:30pm.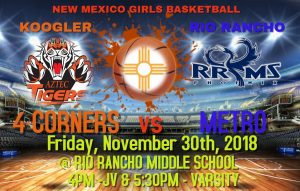 "These middle school basketball games will change the face of New Mexico scholastic sports forever," said C.V. Koogler Middle School Athletic Director Eric Arpelar.  "Get ready for the games that will set the tone for a playoff atmosphere.  This is New Mexico middle school basketball at its finest as the 4-Corners faces off with Metro."
It will be the Phoenix versus the Tigers.  The boys basketball teams from each school will meet on December 10that Rio Rancho Middle School.
The two-year series will move to the Four Corners in the 2019-2020 school year.