LA CUEVA COMMUNITY REMEMBERS FORMER SWIM COACH
Monday afternoon, La Cueva High School dedicated a memorial bench in honor of former swim coach Vince Sanchez.  A group of about 50 people gathered to remember the man who's life ended too soon at the age of 41.  The bench reads "In Loving Memory of Coach Vince Sanchez".  Sanchez was a former La Cueva swimmer himself and spent 16 years as the school's head coach.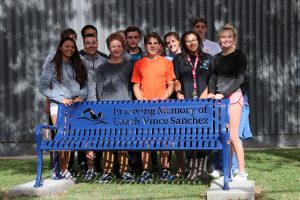 "It's a day of coming together and sharing with others," said Vince's father Rafael Sanchez.  "It amazes me as to the impact he had on the swimming community."
"His legacy will continue," said his sister Terri Watson.  "He had a positive impact on a lot of swimmers."
"I wish everyone would get to meet Vince," said swimmer Natalie Jones.  "He was that kind of person that only comes around only once in a while.  I'll never replace him, but I will always remember him."
"His legacy lives on in all of the swimmers he coached. Once a Bear, always a Bear!," principal Dana Lee posted on social media.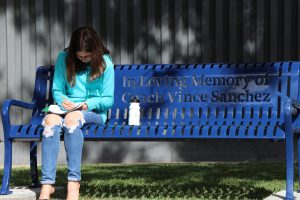 *click the above YouTube link to hear from friends and family