FATHER/SON TEAM MAKE OFFICIATING A FAMILY AFFAIR
*click the above YouTube link to watch the story
It looks like just another weekday football game, but there's something unique about this officiating crew.  Mike and Tanner Tixier are working together as father and son.  Mike's been an official for seven years.  Tanner is on his fourth year and his father had everything to do with why he got into officiating in the first place.
"My dad was talking to me the first couple years he was doing it without me," Tanner explained.  "He kept talking about 'you need to come out here, you're going to have a lot of fun.  You'll stay in the game, you're knowledgeable of the game.  Just come do it'.  After being on me for about two and a half or three years I finally decided to set it up and do it."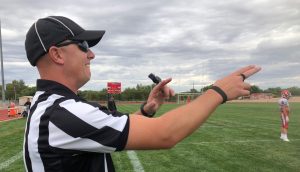 What sort of advice did dad have for his son?
"You know J.P., being a police officer, he knows how to control people, he knows the importance of dealing with people and besides that he was a pretty good football player back in the day," said the proud father. "He knows the game, he knows how to deal with people, I thought he'd be perfect for it."
This day is the first time in three year's they've done a game together.  Tanner's very first year as an official, they were on the same crew at a JV game and the two were in sync ever since.
"It's a lot of fun because we lived together our entire lives and so we know what the other is thinking, what the other is doing, the mannerisms and mechanics," said Tanner.  "If he's running a certain way I know that he's either got something, so it's a lot of fun calling with my dad. There's a lot of non-verbal communication that goes on that other officials wouldn't pick up on."
Does dad ever correct son like he used to do growing up in the Tixier household?
"He just corrected me on a call I missed, so yes, it still happens," Tanner joked.
"I always want to protect him as a father, of course I do, and make sure he does things right and I just think that's a parental, innate thing that we have about us. I think he's forgotten more about officiating than I know."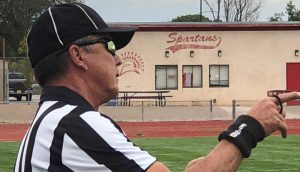 They got into officiating at different times, but for the same reason.
"I love the game and I was knowledgeable of the game and so I figured it would be a good way to not only give back to the community and the kids but give back to the game," said Tanner. "I played football from the age of 12 through senior high school.  It was a nice way for me to give back, not only to the kids, but to the game of football and to keep it going.  Without officials, these kids aren't going to be playing football on Friday nights and Saturdays."
"If I could reach all my ex-players, they need to come out and give back to the game," said Mike. "I think they would find it very exciting.  It keeps them in the realm of Friday Night Lights. It's just a great way to give back and it's a great way to watch a football game."
Being a part of a state championship crew together is the ultimate dream for these two.
"That's what we strive for. We're doing the very best we can, we're critiqued every week by Ken Murphy and his crew," said Mike.  "We want to do the very best we can and to do that and be at that level would be quite the thrill."
"He's coached in several state championships.  I've played in a state championship so we could bring it all together and full circle it," said Tanner.
When the game ends, it's back to being father and son…until the next kickoff.